Wed., Jan. 27, 2010, 1:02 p.m.
Oxy addict who targeted elderly gets 7 years
A man who robbed elderly women in grocery store parking lots to support his OxyContin addiction will spend seven years in prison.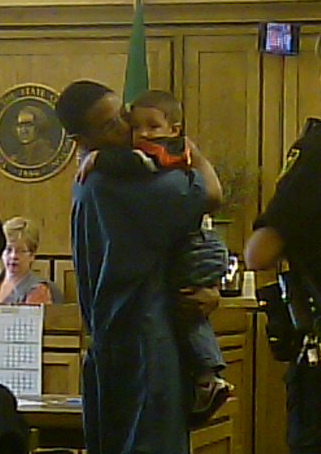 Ryan Xavier Burgess, 22, was sentenced to 86 months in prison Tuesday after pleading guilty to two counts of second-degree robbery, one count of attempted second-degree robbery and and four counts of second-degree theft. He'll serve his sentences concurrently.
"I'm terribly sorry for my actions," Burgess said. "I started getting high, running with the wrong crowd."
A sheriff's deputy allowed Burgess to hug and kiss his 2-year-old son, Alex, before he was taken back to the jail. One of his victims hugged the boy, too. Burgess was arrested Sept. 29 after a police officer found him hiding in a shed near the 5 Mile Shopping Center.
That same day, an elderly woman identified Burgess in a photo montage as the man who accosted her outside Huckleberries market on South Monroe. Police spotted Burgess at the 5 Mile Shopping Center after recognizing him from surveillance video.
Burgess was convicted of four women between Sept. 20 and Sept. 28.
His first victim was a 96-year-old woman who uses a walker.
"She was absolutely frightened about having to come into court and testify and face Mr. Burgess," said Deputy Prosecutor Larry Steinmetz. "I believe it still has an impact on her today."
Burgess wrestled and was on the honor roll in high school. He told Judge Maryann Moreno that he became addicted to OxyContin while a student at Spokane Community College.
He was born in California but moved here in middle school with his father. His mother is a crack cocaine addict who served prison time for welfare fraud, said public defender Brooke Hagara.
"Mr. Burgess is a very intelligent young man who has a lot of potential and has a lot of remorse for what he's done," Hagara said.

Burgess' father, uncle and aunt testified at his sentencing.
"I know he would have never, ever did this in the right state of mind," said his aunt.
---
---