Thu., July 8, 2010, 9:30 a.m.
Barefoot Bandit linked to Bahamas break-ins
MARSH HARBOUR, Bahamas (AP) — A teenage fugitive from Washington with a celebrated history of escapes has allegedly committed several nighttime burglaries in the Bahamas, eluding an FBI-aided manhunt on the sliver of an island where he crash-landed a stolen plane.

Investigators pursuing Colton Harris-Moore were following a trail of break-ins from the southern tip of Great Abaco Island, where the 19-year-old convict ditched the plane Sunday, to the main town of Marsh Harbour 50 miles away where the teen was recognized on surveillance footage of a restaurant burglary.
The Bahamas caper of the teen dubbed as the "Barefoot Bandit" began when he guided the single-engine Cessna into clear blue, knee-deep waters at a sparsely populated corner of the sun-soaked island. He apparently followed a peninsula of land to the town of Sandy Point, and he was reportedly seen walking across a road around the time a service station was burglarized Sunday night.
His arrival coincided with an annual regatta that may make it easy for him to blend in among the crowds of visiting tourists. It also came just before the unsealing of a complaint in U.S. District Court that accuses him of stealing a plane from the Boundary County Airport last fall.
A Royal Bahamian Police Force bulletin warned that the 19-year-old should be considered "armed and dangerous." The FBI is offering a $10,000 reward for tips that lead to his capture.
Bar and restaurant owner Alistair McDonald said he was one of the thief's latest victims.
McDonald said surveillance video captured the suspect inside his establishment in Great Abaco's Marsh Harbour (pictured above) before dawn Tuesday. He said the teen at one point looked directly into a security camera, then shone a flashlight into it to blur the image and turned all three security cameras to face the wall.
"He seemed pretty relaxed and at ease," McDonald said, adding he thinks the thief was looking for money or got spooked because he left without stealing anything, not even a bottle of water. He gave the tape to police.
Service station owner Dwight Pinder (right) said his shop on the southern tip of Great Abaco was burglarized Sunday night, shortly after the plane crash in a nearby marsh.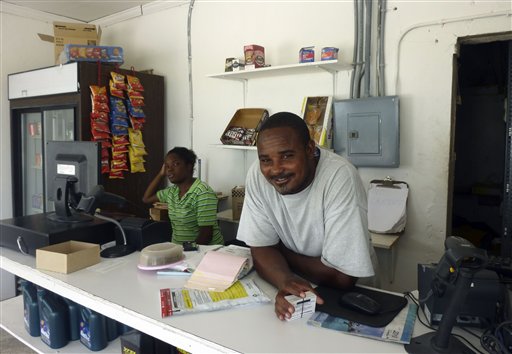 The thief stole a Gatorade and two packets of potato chips, leaving a bundle of food and drinks on the counter — a sign he apparently left in a rush.
Pinder told The Associated Press that the thief was so skilled that he didn't even scratch the lock he picked.
A nearby house was also burglarized, with the thief making off with a brown Chevrolet Tahoe that was later found abandoned in the town of Marsh Harbour.
Read the rest of the story by clicking the link below.
Assistant Police Commissioner Glenn Miller said Harris-Moore is a suspect in the burglary of at least seven homes and businesses on Great Abaco, the largest of dozens of small islands and cays that are a part of the sprawling Bahamas archipelago east of Florida. The island is small, but its dense clusters of trees provide good cover for a proven outdoorsman like Harris-Moore.
Police scoured the island for the lanky teen, who is 6 feet, 5 inches tall but still has a boyish face that has led some to compare him to the Leonardo DiCaprio character in the film "Catch Me If You Can."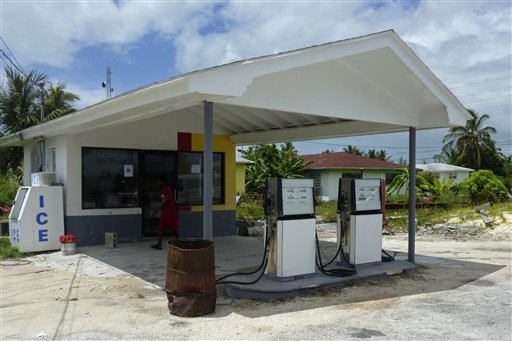 National Security Minister Tommy Turnquest said local authorities were working with the FBI.
"If he is there to be caught our police will catch him," Turnquest said.
Assistant Superintendent Hulan Hanna said police believed the fugitive was still on Abaco.
"We have taken steps to neutralize the areas he may try to use to leave the island," Hanna said. "We have been talking to people on the ground, we have distributed fliers featuring his photo throughout the island."
On Elbow Cay, one of dozens of tiny islands scattered around Great Abaco Island, residents said they were being vigilant.
"We're keeping an eye out for him and just hoping he doesn't do anything crazy," said Valery McPhee, who runs a convenience store in the enclave of Hope Town.
He could try to blend in with tourists vacationing on the islands. The Regatta Time in Abaco is an annual ritual for sailors, mostly from nearby South Florida. Organizer Kathy Ralph said some 50 boats are participating in races and the competition, the area's biggest annual event, has drawn more than 2,000 spectators.
On Orcas Island north of Seattle, which has been one of Harris-Moore's favorite stomping grounds in the past year, an official said he hoped news of the teenager's adventures abroad meant he wouldn't be coming back soon.
"Speaking on behalf of the business community, we're thrilled," Chamber of Commerce Director Lance Evans said. "We're hopeful that authorities anywhere he finds himself will catch him." Past coverage:
July 7: Barefoot Bandit's mom: Phone home, Colt
July 6: Has the Barefoot Bandit hit the Bahamas?
June 22: Has the Barefoot Bandit hit the Midwest?
June 3: $50,000 for Barefoot Bandit's surrender
Feb. 11: Stolen plane, chalk drawn feet: Teen burglar back?
Oct. 7: Teen bandit becoming national sensation
---
---