Tue., July 13, 2010, 5 p.m.
Jurors see swords used in double slaying
Jurors today saw gruesome photos of two young Spokane people slain by a Las Vegas man who claims to suffer from a rare disorder.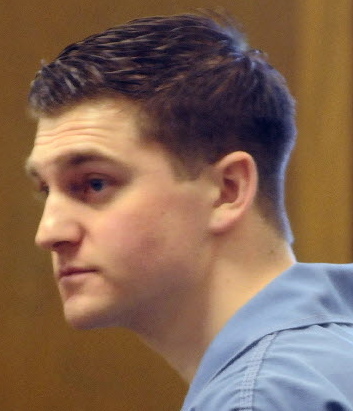 Two swords used in the murders of 18-year-old Sarah A. Clark and 20-year-old Tanner E. Pehl were displayed for the 16 jurors - four are alternates - this morning, along with photos of the deceased.
Clark was found under a blanket slumped next to a bed by a nightstand with her head nearly severed; a Samurai sword was resting on her neck, but detectives believe killer Justin W. Crenshaw (pictured) placed it there after she was dead. About six cut wounds were found on her neck; a firefighter who first found her body testified Monday that it appeared her throat had been cut.
Pehl was found in the hallway with a broadsword through his chest that investigators say was inflicted after he died and after his body had been covered by a blanket. Detective Mike Drapeau displayed the swords, which already were in the home the night of the murders, during testimony today.

Also testifying were witnesses who heard screams coming from the Pehl home about 3:40 a.m. The fire, which Crenshaw set after the murders, was reported at 4:30 a.m.
Crenshaw, 22 and a recovering heroin addict, faces life in prison if convicted of two counts of aggravated first-degree murder.
Defense attorney Chris Bugbee is asking jurors to convict the killer of a lesser charge, citing a rare disorder called alcohol idiosyncratic intoxication. Crenshaw had been in Spokane about two weeks when Clark and Pehl were slain on Feb. 28, 2008. He was here visiting his sister, who was close friends with Clark, and got a job at a restaurant where Pehl worked.
Past coverage
July 13: Crenshaw defense admits slayings

July 12: Crenshaw double murder trial begins today
---
---