FRIDAY, JULY 23, 2010, 12:14 P.M.
Bandit's lawyer: 'He was scared to death'
After Colton Harris-Moore's brief appearance in U.S. District Court in Seattle Thursday, his prominent Seattle defense lawyer had a message for the teen's apparent admirers. 
"For any of the kids out there that think this is fun, it is not," John Henry Browne told news reporters, according to a video from the Seattle Times. "He was scared to death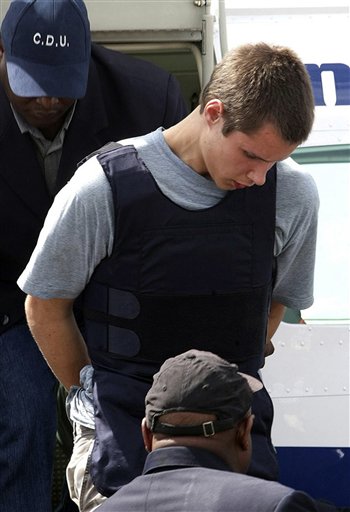 most of the time...and he's concerned that kids will think this was fun."
Browne described Harris-Moore as "very smart but not terribly mature."

"He seems like a kid... the whole media thing creeps him out...He doesn't know what's going on...He's confused about it."
Browne's associate, Emma Scanlan, said Harris-Moore is "very relieved, actually, to be done with being lonely and being on the road by himself. I think things got out of control for him."
Harris-Moore did not contest his detention Thursday and waived his right to a preliminary hearing. His next court appearance will likely come after a grand jury indictment.
The 19-year-old, captured after a boat chase in the Bahamas July 11, is accused of stealing a Cessna 182 from the Boundary County Airport last fall and crash landing it near Granite, Falls, Wash.
Past coverage: Oct. 7: Teen bandit becoming national sensation
---
---