Thu., July 29, 2010, 6 a.m.
Barefoot Bandit doesn't like all the attention
SEATTLE (AP) — The "Barefoot Bandit" has received movie and book offers but is not interested in telling his story — nor does he want anyone else to do it, according to his attorney.
Colton Harris-Moore, 19, is being held in Seattle on a federal count of interstate transportation of stolen property related to a plane theft at the Boundary County Airport in Bonners Ferry last fall.
The U.S. attorney's office says Harris-Moore is the primary suspect in at least 80 crimes committed since he escaped from a group home near Seattle in April 2008.
They include stealing five airplanes, three of which were wrecked in crash landings, dozens of break-ins at homes and businesses, and the theft of cash, food, electronics, firearms, cars and boats across nine states, British Columbia and the Bahamas, where he was captured.
His attorney, John Henry Browne (pictured), told ABC News that Harris-Moore's time as a fugitive wasn't planned and he eluded authorities because he was afraid to turn himself in.
"He was sleeping in culverts, in ditches — and on occasion in a Porta-Potty or two," he said.
Browne said he spoke with Harris-Moore for four hours on Saturday and found him to be "fascinating, intelligent and introspective."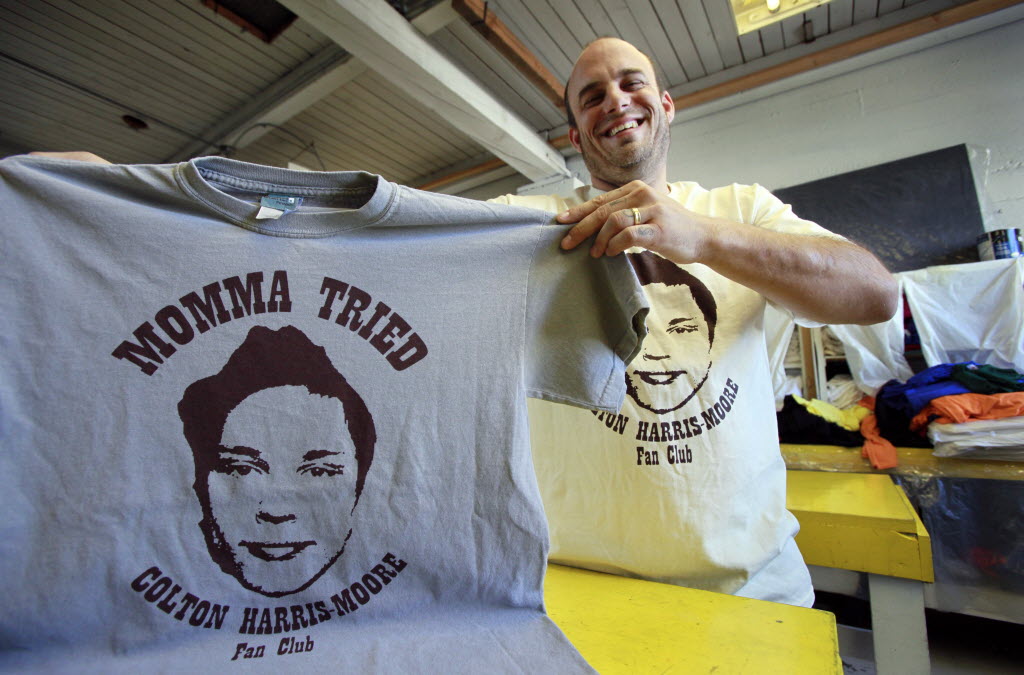 "He wanted me to give the message to the public that what he did was not romantic, that he shouldn't be a role model," Browne said during an interview on "Good Morning America." ''He actually doesn't like the attention he is getting." (Seattle print shop owner Adin Stevens is pictured last October displaying a t-shirt he said he print on whim to celebrate Harris-Moore.)
Harris-Moore doesn't plan to profit from his story and doesn't want anyone else to either, Browne said.
"He felt if he told it or gave it away, it would no longer be his story," Browne said. "Almost like, if you look in a mirror, your soul is stolen. It was really interesting."
Asked about whether Harris-Moore flaunted his "Barefoot Bandit" image by drawing bare feet with chalk at one burglarized store, Browne said Harris-Moore intended it as a spoof.
"It was kind of like silly 19-year-old humor," he said.
At a court hearing Friday, Harris-Moore did not contest his detention and waived his right to a preliminary hearing. His next court appearance will likely come after a grand jury indictment.
Read an in-depth story on Harris-Moore's time in the Bahamas, written by a Seattle Times reporter who traveled there, by clicking the link below.
Past coverage:
July 23: Bandit's lawyer: He was scared to death
Oct. 7: Teen bandit becoming national sensation
ELEUTHERA, Bahamas — Hey, the young local guys on shore yelled at the skinny youth on the Boston Whaler drifting about 30 feet away, "You're the Barefoot Bandit!"
Colton Harris-Moore replied, "That's me."
He was wearing shorts with a camouflage print, a light-colored T-shirt. He didn't appear scared or nervous. It was about 11 p.m. on Saturday, July 10.
One of the guys, Morris Jonassaint, 19, was struck by something that Harris-Moore said at one point.
"He says, 'Call the cops! Call the cops! I want to get chased! I'm bored!'" Jonassaint recalled.
Harris-Moore was hours away from the end of his last week of freedom. His two-year run that had taken him from Camano Island across the country, and to here, was over.
During his days on the lam, Harris-Moore had turned into an outlaw cult hero to some, garnering worldwide media attention and nearly 93,000 friends on Facebook. He is believed to have landed in the resort islands of the Caribbean in a stolen plane. But instead of cocktails and sunning on sandy beaches, the "Barefoot Bandit" spent his days hiding in hot, humid tropical scrubland, surviving on stolen Gatorade and candy bars.
Although brazen to the end, Harris-Moore's freedom ended when his getaway boat wound up stuck in a sandbar, with the 6-foot-5 19-year-old ducking a hail of gunfire from local police before surrendering.
Harris-Moore now is being held at the Federal Detention Center in SeaTac, Wash. He is charged with interstate transportation of stolen goods in connection with the theft of an airplane in Idaho and is under investigation for alleged involvement in dozens of burglaries and other crimes in Washington and eight other states.
___
On July 4, around 1:30 p.m., residents in the 800-person settlement of Sandy Point on Abaco Island in the Bahamas saw a small plane circling overhead for about half an hour.
"We just thought it was some tourist taking pictures," said Dwight Pinder, who owns a two-pump gas station and small convenience store. Hours later, his store was burglarized for chips, candy and Gatorade.
The $620,000 single-engine Cessna Corvalis 400, taken from the small Monroe County Airport in Bloomington, Ind., was crash-landed in nearby marshes. It had been flown 1,100 miles to this spot, a trip that had taken more than six hours.
(In a Bahamas court, Harris-Moore never acknowledged flying a plane there. Instead, he said he swam to the islands, at least 160 miles from the United States.)
According to Patrick Smith, a commercial pilot who writes "Ask the Pilot" for Salon magazine and has a website by that name, a pilot would not have set off alarms for FAA radar by turning off the transponder and flying at low altitudes.
In a story citing unnamed police sources, The Nassau Guardian said Harris-Moore told police he had come to the Bahamas because he had learned from the Internet that it had many islands, airports and docks.
He had a belief that fate was guiding him, said John Henry Browne, attorney for Harris-Moore.
"He thought, if that's where he was supposed to land, that's where he'd land. And he figured that if he got caught, he was supposed to get caught," Browne said.
The plane was crash-landed quite well in a swampy stand of mangroves — trees and shrubs that can grow in saltwater. It was a four-hour trek in tropical heat and humidity from Sandy Point to the plane. Officers who walked it came back with clothes and boots caked in mud.
As in past alleged crimes, Harris-Moore appeared to have the smarts to think fast.
"He took cushions out of the plane and laid them underneath the plane, where it had landed. I think he rested there until dark," said Michelle Engelbrecht, a partner in an eight-room resort in Sandy Point. She and two friends walked to the plane.
They found a plastic bucket outside the plane, apparently used to collect rainwater. Inside were Handi Wipes-type cleaning cloths. They figured they had been used to wipe off fingerprints.
Later, a Chevy Tahoe was stolen from Sandy Point and found abandoned some 50 miles away in the main town of the island, Marsh Harbour.
Harris-Moore was believed to have stolen a 44-foot powerboat at a Marsh Harbour marina Tuesday, then taken it 40 miles south to the island of Eleuthera, which means "freedom" in Greek.
The boat was found beached in the treacherous reef off northern Eleuthera known as the Devil's Backbone, so named because it has been the site of shipwrecks. To reach shore, Colton-Harris likely would have had to make his way through tropical brush and trees.
During the next three days, Harris-Moore was spotted at a water-taxi dock on the eastern side of the island. People at the dock would sporadically see the gangly youth standing on the shore on the other side of the cove, sometimes going into the water. Nobody paid much attention.
"Just a white boy, just a tourist, hanging out, whatever, doing the tourist thing," said Denaldo Bain, manager of Coakley's International Sports Bar, a modest local tavern.
Locals believe he likely was hiding out in a nearby small cove of bushes, mango plants and grasses.
"He was not living in fine hotels," said his attorney, Browne, who noted that the federal pretrial report on Harris-Moore said the youth was "vacationing" in the Bahamas.
On Wednesday night, someone broke through a screen into Coakley's bar, again taking snacks such as Snickers and chips, water, Gatorade and a couple of beers. The next morning, Bain noticed that not only had a security light been taken apart, but someone had moved the TV's remote control.
On Saturday night, Harris-Moore is believed to have walked along the beach to Whale Point, a place with expensive homes. One of the homeowners says his 15-foot skiff was stolen that night.
Harris Moore was spotted at the water-taxi stand in a similar skiff, casually talking with the young men there.
Every time Harris-Moore would get within 15 to 20 feet of the dock, he'd turn on the motor, and go back 40 feet or so, Jonassaint said. "He'd do that, back and forth, going on for like an hour," he said.
"We were all just sitting there, laughing, talking. I asked if he need anything. A drink? He said, 'I don't drink and drive.' I asked if he wanted some food. He said, 'I'm good.' I asked if he wanted something to smoke. He said, 'No.' "
Eventually, a couple of Jonassaint's buddies got into a boat to chase Harris-Moore. He eluded them and headed to Harbour Island.
___
Sometime around midnight, a security guard spotted Harris-Moore at the Romora Bay Resort and Marina in Harbour Island, where he docked the skiff. Twice, security cameras on a 92-foot yacht at the dock caught Harris-Moore on the run, wearing a knapsack and carrying in his right hand what appears to be a gun. He was barefoot.
Kenny Strachan, security director at the resort, saw Harris-Moore running toward him. "He kept repeating, 'They're trying to kill me!'" Strachan said.
At that point, no police were following Harris-Moore and the two men in the boat had given up their chase.
Strachan then saw Harris-Moore holding a silver 9-mm handgun with a black handgrip. The security director ran alongside Harris-Moore, telling the youth he would help him.
Strachan said he saw that the youth's index finger had moved inside the trigger chamber.
"I wasn't scared at no time. I saw him look hungry and frail, with bruises and scratches on his legs," Strachan recalled. "I was glad to meet this man they were looking for all these years. I could see the kid was not an evil person."
Still, Strachan opted for caution. He stopped chasing Harris-Moore and used his cell phone to call police.
Fifteen officers combed the property and the small island for two hours, Strachan said. They had no success.
Then, at 2:45 a.m., Strachan heard a boat motor start.
"The 'Barefoot Bandit' took off with a lot of speed, full throttle," he said.
This time, it was in a 32-foot Intrepid powerboat.
Officers borrowed a 27-foot Boston Whaler with security cameras from the owner of the yacht. The owner also agreed to let his captain, Ronald Billiot, skipper the Whaler.
On the chase boat, there were nine men — Billiot; another yacht captain; Jordan Sackett, the son of the yacht owner; and six police officers with shotguns and Uzis.
In the dark, Billiot spotted Harris-Moore in the Intrepid. Harris-Moore had become stuck in a sandbar.
"The officers were yelling, 'Stop, stop! Put your hands up!'" Billiot said. "Then we seen a flash in the air, a muzzle flash. I don't know which way it went, it was dark."
Harris-Moore appeared to be in a panicked state, Billiot said, even pointing the 9-mm gun to his head. "He kept repeating, 'Don't come any closer! I'm going to kill myself! I'm not going back to jail!'"
At the same time, Billiot said, he could see that Harris-Moore was managing to bump the stolen boat along the sand, and soon would be off the sandbar.
"I told the police officers, once he gets off the sandbar; there is no way we can keep up with him. We've got too much weight and he's one single guy on a faster boat," Billiot said. "After that, the consensus was to shoot the engines."
Police fired 25 to 30 shots, the spray hitting other parts of the boat. Harris-Moore went for cover.
"The he comes up and says, 'Stop shooting!' He's waving his arms, but he still has the gun in his hand."
Sackett said Harris-Moore began throwing articles in the water — an Apple laptop with a black cover case, what appeared to be an iPhone and the handgun.
About five hours later, at daylight, Sackett was among those returning to retrieve the articles from the shallow water. He said they found a spent shell in the chamber and two hollow-point bullets in the clip.
Billiot remembered clearly what Harris-Moore said as he was taken to the dock, facing jail.
"He said, 'You guys should have killed me.'"
---
---