Tue., March 9, 2010, 11:18 p.m.
Manhunt under way for homicide suspect
A cross-state manhunt is underway for the suspect in a fatal shooting in Hayden today.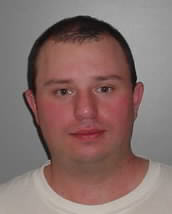 The suspect, Chad Lee Moore, 35, (left) was last seen northbound on Government Way in a blue Toyota pickup with a white stripe, Idaho license plate K433586. He is believed to be armed and dangerous.
The victim, 28-year-old Ryan William Taylor, of Coeur d'Alene, was found near the front door of an apartment building at 10102 N. Government Way, at 2:50 p.m.
He died at Kootenai Medical Center, Lt. Stuart Miller said. Miller said the victim and Moore knew knew each other but provided no other details.
The Spokane County Sheriff's Office dispatched its helicopter about 6:30 p.m. to assist in the manhunt, which extended across state lines.
Miller said authorities have sent out bulletins to all law enforcement, including the Border Patrol in the region, and in Idaho, Washington and Montana.
Moore is 5 feet 6 inches tall, and weighs 195 pounds. He is wearing camouflage clothing and Carhartts overalls.
If anyone sees him or knows where he might be, call 911 immediately.
---
---