Tue., March 23, 2010, 9:28 p.m.
Crash leaves SUV in spectacular spot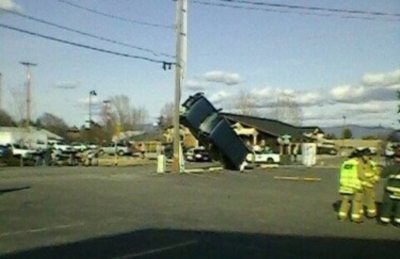 A crash in Hayden Monday left an SUV entangled in power pole wires and partially suspended above the ground.
Timothy J. Toboyko's 1997 Chevy Suburban was balanced on its back left corner, facing upward at a 45-degree angle, after Toboyko crossed into the eastbound lanes while westbound on Orchard Avenue, according to the Kootenai County Sheriff's Department.
Investigators don't know what caused the crash, but they say alcohol was not a factor. Toboyko had stopped at the intersection before he crossed Government Way and stuck a stop sign, then hit the power pole.
The area was without power for about a half an hour. Toboyko was taken to Kootenai Medical Center with non-life threatening injuries.
The picture was sent to KHQ TV by Rachelle Wolfe.
---
---