Tue., May 4, 2010, 11:16 a.m.
Dorn gets device that led to Thoma's lawsuit
State schools Superintendent Randy Dorn received an automatic 90-day driver's license suspension when he pleaded guilty last month to drunken driving.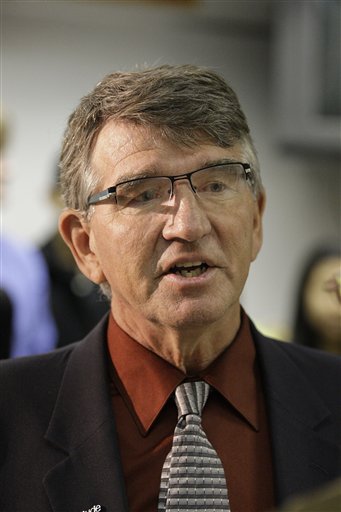 But that doesn't mean he can't drive.
The Associated Press reports that Dorn (left) is driving with an ignition interlock device - the same device Spokane police Chief Anne Kirkpatrick wouldn't allow now former Sgt. Brad Thoma to use in his patrol car after a DUI arrest last fall. Thoma is suing the city of Spokane, alleging wrongful termination.
The 2008 Washington Legislature adjusted drunken driving laws beginning in January 2009 to allow all offenders to regain their driving privileges if they install ignition interlock devices on their vehicles, instead of simply suspending their driving privileges for a period of time. The devices test a driver's blood-alcohol level and prevent the vehicle from starting if alcohol is detected.
Even first-time offenders who chose an intensive, five-year deferred prosecution program, like Thoma, must use one.The option also is available for DUI suspects facing license suspensions because they refused blood or breath tests, like Spokane County Sheriff's Deputy Darin Schaum.

It's unclear what that could mean for a Sheriff's Office policy that calls for employees to be fired only after their second drunken driving offense. Kirkpatrick wouldn't allow Thoma, a first-time offender, to use one because she doesn't feel its appropriate for someone in law enforcement to drive with the device on their patrol car.
Past coverage Feb. 3: Ignition device law a test for agencies
---
---