Man in 'caffeine psychosis' crashes acquitted
(AP) A Moscow man whose lawyer blamed caffeine-induced psychosis for alleged hit-and-run crashes at Washington State University in December has been acquitted by reason of insanity.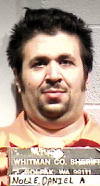 Whitman County Superior Court Judge David Frazier ruled today that Daniel Noble, 31, was temporarily insane during the Dec. 9 incident and acquitted him of two felony counts of vehicular assault, two felony counts of hit-and-run and misdemeanor resisting arrest.
The Lewiston Tribune reports that Frazier granted a defense motion to acquit Noble based on Noble's attorney's intent to use an insanity defense at trial.
The two crashes injured pedestrians, Neil Waldbjorn, 19, of Malaga, Wash., and Hogun Hahm, 23, of Pullman. Each suffered a broken leg. Officers used a Taser to subdue Noble.
Noble's attorney, Mark Moorer, had previously said his client was suffering from caffeine-induced psychosis brought on by too much coffee and energy drinks.
March 11: 'Caffeine psychosis' defendant fit for trial
Dec. 9: Lawyer: Blame it on the caffeine
---
---