Wed., May 19, 2010, 11:19 a.m.
Oxy dealer, pharmacy robber pleads guilty
An OxyContin dealer who helped rob two pharmacies faces at least five years in prison after pleading guilty to five felonies Tuesday.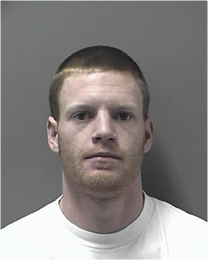 Aaron M. Weyrauch, 28, has been in jail since Sept. 15 after he led Spokane police on a chase through the South Hill, abandoned his car then was arrested in the back of another car with his robbery accomplice, Dustin J. Rockstrom and his roommate, Dalen J. McMillon.
Rockstrom, 27, was sentenced in March to 13 months in prison for two counts of second-degree robbery for pill heists at the Shopko at 4515 S. Regal St. on Aug. 24, then the Rite Aid across the street on Sept. 5.  Weyrauch was his getaway driver.
Weyrauch pleaded guilty Tuesday to two counts of attempted second-degree robbery, two counts of delivery of a controlled substance (OxyContin) and one count of attempting to elude police.
The plea deal with Deputy Prosecutor Dale Nagy amended the original second-degree robbery charges and will recommend a judge sentence Weyrauch to 60 months in prison, the low end of his standard sentencing range for the robbery charges. He could be sentenced to as many as 120 months.
The drug-dealing charges are related to transactions with a confidential informant on Sept. 8 and Sept. 10. McMillon, 27, also is charged in those incidents. He's out of jail on bond.
Weyrauch remains in jail awaiting sentencing. Weyrauch's convictions include second-degree unlawful possession of a firearm, unlawful imprisonment (domestic violence) and third-degree domestic violence assault, second degree possession of stolen property and conspiracy to possess a controlled substance - cocaine.
Before his criminal activity made the paper, Weyrauch was profiled in the Spokesman-Review Valley Voice as a successful skier who qualified for the Junior Olympics. A ski coach was impressed with Weyrauch's dedication to the sport. Read the story from 1997 here.
March 9: Wigged OxyContin robber gets 13 months
March 3: Suspect's roomie accused of selling Oxy
Nov. 18: Another charge for Oxy robbery suspect
Sept. 22: Searching for robber, police find possible Oxy ring
---
---