Wed., Nov. 10, 2010, 6:14 p.m.
Grand jury indicts Barefoot Bandit
A federal grand jury has indicted a notorious ex-teen fugitive for the theft of a small plane in Bonners Ferry last fall.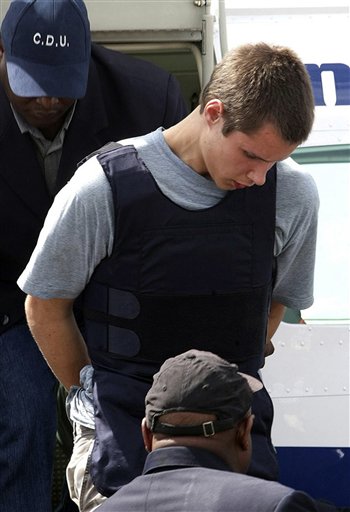 Colton Harris-Moore, 19, faces five charges in U.S. District Court in Seattle for an alleged crime spree that began after he escaped from a group home in April 2008, according to an indictment filed today.
"The grand jury action today is an important step in holding Colton Harris-Moore accountable for his criminal conduct," U.S. Attorney for the Western District of Washington Jenny A. Durkan said in a prepared statement.
Harris-Moore is charged with interstate transportation of a stolen aircraft for allegedly stealing a Cessna 182 on Sept. 29, 2009, from the Boundary County Airport, then crash-landing it near Granite Falls, Wash., after it ran out of fuel. The $340,000 plane was owned by a Bonners Ferry cattle rancher.
The teen is charged with piloting an aircraft without a valid airman's certificate for a flight he made in a stolen plane from Anacortest to Eastsound, Wash., on Feb. 10, and with interstate transportation of a stolen vessel for allegedly stealing a boat in Ilwaco, Wash., on May 31 and taking it to Oregon.
He also faces two gun charges for a Jennings .22 caliber pistol and for a .32 caliber pistol stolen in British Columbia and recovered near Granite Falls.
The gun and theft charges are punishable by up to ten years in prison and a $250,000 fine. Piloting an aircraft without an airman's certificate is punishable by up to three years in prison.
Harris-Moore remains in federal custody in western Washington. He gained international attention as the Barefoot Bandit before his arrest in the Bahamas in July after a high-speed boat chase.
Past coverage:
July 23: Bandit's lawyer: He was scared to death
Oct. 7, 2009: Teen bandit becoming national sensation
---
---