Mon., Aug. 8, 2011, 5:26 p.m.
Church burglaries lead to 23 felonies
A series of church burglaries last year has led to 23 felony charges against four suspects.
The burglaries, which police say began when the main suspect and his mother stole a purse from a Mormon church, were done to feed the man's OxyContin ad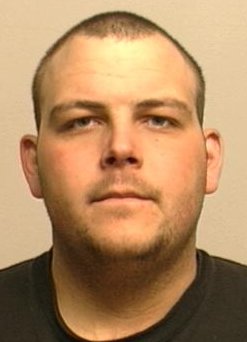 diction, according to court documents.
That man, Andy W. Hoke, 25, (pictured) appeared in Spokane County Superior Court today on 13 charges of second-degree theft, one count of second-degree identity theft and six counts of first-degree trafficking in stolen property.
Hoke told police he burglarized the churches and exchanged stolen goods to Steven D. Kinard, 51, for drugs, according to court documents. Kinard is charged with three counts of possession of a controlled substance, clonazepam, cocaine and hydrocodone.
Hoke's older brother, Jeremiah L. Hoke, 28, is charged with second-degree theft for allegedly stealing a debit card for a church patron on May 4, 2010. A fourth suspect, Daniel I. Heinzen, is charged with six counts of first-degree trafficking in stolen property for allegedly helping Andy Hoke trade stolen property to Kinard.
Victimized churches include Valley Bible Church, Whitworth Presbyterian Church, Intersection Church, Indian Trail Church, First Church of Nazarene and Turning Point Open Bible Church.
Police searched two locations associated with Kinard last year - 16 S. Fiske St. and 2503 E. Seventh Ave. (The Seventh Avenue home is where a judge was to allow Kinard's brother, T-Baby, to spend Thanksgiving during a during a five-hour jail furlough.) Heinzen's home at 1016 E. Montgomery also was searched
According to the search warrant, Hoke "admitted that he had done several church thefts with his mother until the last month or so when he began doing them on his own."
The scheme fell apart when employees at Mt. Spokane Church called police May 5 and said they'd caught Hoke in the church and believed he was planning a theft.
Hoke was sentenced to 14 months in prison in an unrelated case in April.
He returned to the Spokane County Jail this week to face the new charges.
Kinard posted $2,500 after his arrest last year has been summoned to court. Heinzen and Jeremiah Hoke have also been summoned.
---
---