Wed., Aug. 24, 2011, 3 p.m.
Federal medical marijuana suspect jailed
A medical marijuana advocate recently indicted in federal court is in jail after authorities found pot plants at his home in Lincoln County.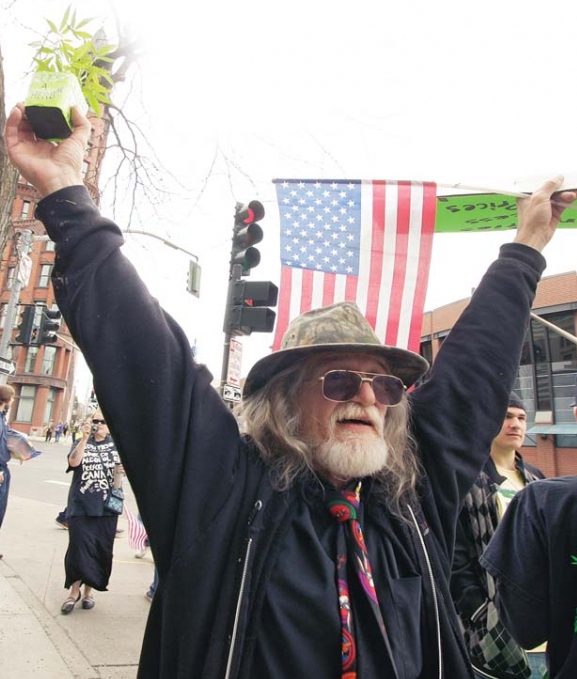 Jerry Wayne Laberdee, 57, (pictured at a pro-marijuana rally in downtown Spokane, courtesy of the Inlander) turned himself in Tuesday after U.S. Magistrate Cynthia Imbrogno issued a warrant for his arrest, said his lawyer, Doug Phelps.
Laberdee was prohibited from possessing firearms and from violating federal law when he was allowed to stay out of jail pending trial on federal charges related to his work with the Spokane medical marijuana dispensary Medical Herb Providers.
On Aug. 12, the Lincoln County sheriff's officials found marijuana plants at his home, as well as a dismantled handgun and ammunition rounds. Federal probation officer Richard Law contacted Laberdee on Aug. 16, and Laberdee "made it very clear to this officer that he would not permit me inside his residence,"according to court documents.
Laberdee also refused to submit to a drug test as his release conditions require, documents allege.
Phelps said a hearing is scheduled Tuesday at 1:30 p.m. to determine if Laberdee will stay in jail.
Phelps said Laberdee had about 45 plants and was complying with state medical marijuana laws.
"Federal law says you can't have anything, and state law says you can," Phelps said.
Laberdee and Medical Herb Providers co-owner Dennis Whited are among five medical marijuana advocates indicted by a grand jury after federal authorities warned them to shut down or face prosecution.
The men are charged with distribution of marijuana, which carries up to five years in prison; manufacture of marijuana, which carries five to 40 years; and maintaining a drug-involved premise, which carries up to 20 years in prison.
Phelps said his client is eager to bring attention to the federal case against medical marijuana.
"He's not trying to evade the process," Phelps said.
Past coverage:
July 26: Medical marijuana suspect calls on Willie Nelson

---
---