Thu., Aug. 25, 2011, 4 p.m.
Burning stolen cars spark brush fire
Two stolen cars were set on fire in the Indian Trial area Wednesday night, sparking a small brush fire.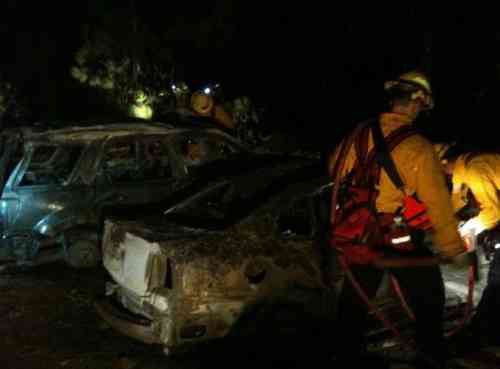 Spokane firefighters responded to reports of flames and explosions from a remote forested hilltop east of Indian Trial Road.
Crews accessed the area through gates and narrow trail and found the car fully engulfed, with flames spreading to less than an acre of land.
The Spokane Fire Department assisted Fire District 9 in controlling the blaze. No injures were reported.
One car, a 2000 VW Passat, was stolen from a home in the 12000 block of North Hemlock Street on Sunday or Monday.
The other, a 2010 Ford Escape, was stolen from the 600 block of East Lakeview Lane on Friday or Saturday.
Both were taken from garages after the owners left the keys inside, according to the Spokane County Sheriff's Office.
The burned cars are pictured courtesy KHQ-TV.
---
---