Fri., Feb. 18, 2011, 6:53 p.m.
Canadian arrested with 71 lbs of cocaine
U.S. border patrol agents seized 71 pounds of cocaine near the Canadian border in Eastern Washington this week.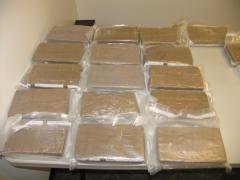 Jonathan Darren Smith, 39, is being held without bail at the Spokane County Jail after agents near the Laurier border crossing spotted him on the east side of Highway 395 "frantically trying to climb the snowy berm at the edge of the roadway," about 9:05 p.m. on Wednesday, according to federal court documents.
Smith,dressed in black with a backpack strapped to his chest and one strapped to his back, as ordered to the ground at gunpoint.
He told U.S. Border Patrol Agent Eric Forthun that he was returning to Canada after crossing into the United States by foot two days earlier. But Forthun recalled agents discovering snowy footprints near the border a day earlier and suspected Smith was a drug smuggler, documents say.
Investigators found 30 individually wrapped, sealed packages of cocaine in the backpacks. Smith also had $13 in U.S. currency and $175 in Canadian currency.
The suspect declined to talk to investigators. He appeared in U.S. District Court on Thursday and is represented by the federal public defender's office.
According to this article, Smith was caught with $165,000 in undeclared U.S. currency when he tried to enter B.C. in 2007.
---
---