Fri., Jan. 21, 2011, 8 a.m.
Seattle inquest jury split on cop shooting
SEATTLE (AP) — A coroner's inquest jury examining a Seattle police officer's fatal shooting of a woodcarver last summer returned its findings Thursday, with just one of its eight members saying the carver posed any threat.
Four jurors said carver John T. Williams, 50, did not pose a threat and three others said they didn't know.
The conclusion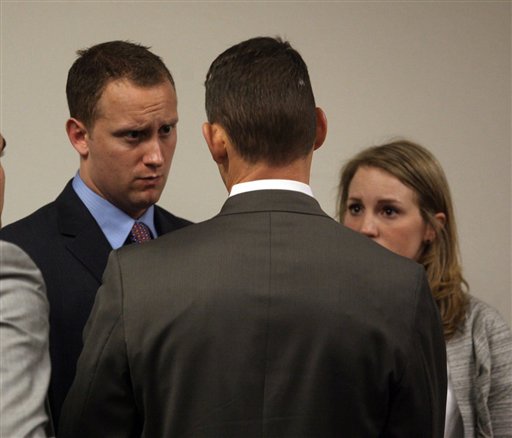 s reached Thursday after two days of deliberations are only findings of fact. In considering 13 questions, the jury was not asked to decide whether Officer Ian Birk (pictured with his wife and lawyer) committed any wrongdoing
Evidence from the inquest and the jury's answers will be forwarded to King County Prosecutor Dan Satterberg to determine whether Birk should be charged in the shooting. Satterberg said he expects to make a decision by mid-February.
Spokane County is one of few jurisdictions that does not conduct jurors inquests into police shootings.
Birk, 27, confronted Williams on Aug. 30 as he crossed a street holding a piece of wood and the knife with a 3-inch blade. Evidence at the inquest showed it took about four seconds from the time Birk first told him to drop the knife to the first gunshot.
The jurors split on whether Williams had time to drop his knife before Birk opened fire, with four saying he did not, one saying he did and the rest answering "unknown."
Four jurors found that Birk believed Williams posed an "imminent threat of serious physical harm" to him when Williams was shot. Four jurors answered "unknown."
The jury watched surveillance video taken from Birk's patrol car, which showed him getting out of the car to pursue Williams, who had crossed the street in front of the cruiser. Off camera, Birk quickly shouted three times for Williams to drop the knife, then fired five shots.
Birk testified that Williams had a "very stern, very serious, very confrontational look on his face." Williams still had the knife out and was in a "confrontational posture" when he opened fire, the officer said.
An autopsy found that Williams' blood-alcohol level was at 0.18 percent, above the 0.08 percent level at which a driver is considered legally drunk.
The police department's Firearms Review Board is expected to convene and rule on whether the shooting was justified. Birk has been on paid leave since the shooting.
The inquest came amid growing criticism that Seattle police officers have used excessive force in several recent incidents, particularly in dealings with minorities. Some community groups have called on the U.S. Justice Department to investigate the department.
Inq
---
---