Tue., July 5, 2011, 6 a.m.
FBI: 'Bad Hair Bandit' now in Oregon
PORTLAND, Ore. (AP) — The FBI says the so-called "Bad Hair Bandit," sought in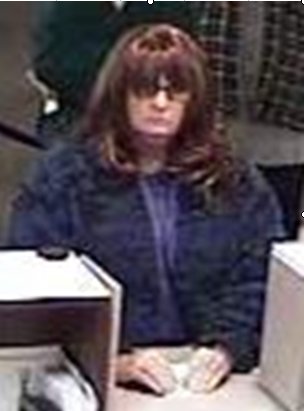 connection with as many as 18 bank robberies or attempted robberies in Washington, is now suspected in a robbery in the Portland suburb of Lake Oswego.
Portland FBI spokeswoman Beth Anne Steele says the woman approached a teller Friday afternoon in a Key Bank branch, indicated she had a weapon and demanded money. She walked out with an undisclosed amount of cash.
Steele says the woman wore a distinctive short dark wig and fits the description of other heists by the "Bad Hair Bandit," who is pictured during a Feb. 10 robbery in Auburn, Wash.
A $10,000 reward is being offered for information leading to conviction of the robber.
The FBI believes the same woman may have robbed two banks in Spokane last summer in Spokane last summer.
She's also believed to have robbed a north Spokane bank in May after robbing banks in Ellensburg and Moses Lake in April.
---
---