Tue., June 14, 2011, 11:39 a.m.
Manhunt for ex-militia leader scaled back
FBI agents, in a helicopter from the Montana National Guard, land at the Lumberjack Saloon west of Lolo, Mont., Monday to join in a manhunt for David Burgert. (AP Photos/Missoulian, Linda Thompson)
LOLO, Mont. (AP) — Authorities are scaling back the ground hunt for a former militia leader accused of firing a gun at Missoula County deputies Sunday before disappearing into the woods near the Idaho border.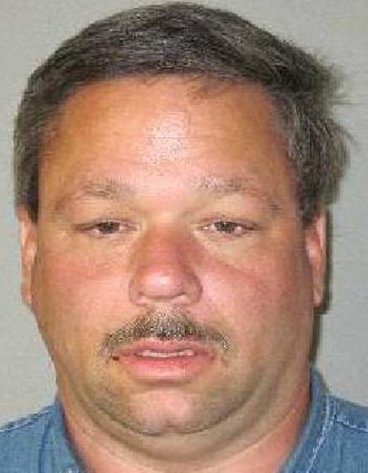 Missoula County Undersheriff Mike Dominick says law enforcement agents continue to patrol a 50-square-mile area centered on the Lolo National Forest in the search for ex-convict David Burgert. But Dominick says Burgert could've escaped the area in a 1987 Jeep Wagoneer that Burgert owns but authorities have been unable to find.
The 47-year-old Burgert is the former leader of a Flathead County militia group that was accused of plotting to assassinate local officials and overthrow the federal government.
He and some other members eventually pleaded guilty to federal weapons charges. Burgert was released from prison in March after serving eight years.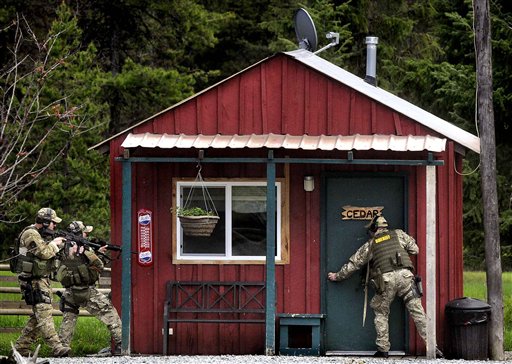 Burgert, who previously told police "he wasn't going to be taken down like last time," may have planned Sunday's attack, Dominick told The Associated Press on Monday.
Authorities found ammunition packed inside the Jeep's engine compartment and in another vehicle associated with Burgert, as well as two stolen rifles and a magazine of handgun ammunition on the ground near where he fled, Dominick said.
The Southern Poverty Law Center describes Burgert as an associate of Alaska militia leader Francis Schaeffer Cox, who is in jail on federal charges accusing him of plotting to kill law enforcement officials. Cox, 27, was the featured speaker at a meeting of extremist groups at the Post Falls Greyhound Park in December 2009.
---
---