Mon., June 27, 2011, 5:19 p.m.
Tips sought on suspect in fatal crash
A reward is being offered for tips that help arrest a man accused of causing a one-car crash in February that killed a passenger.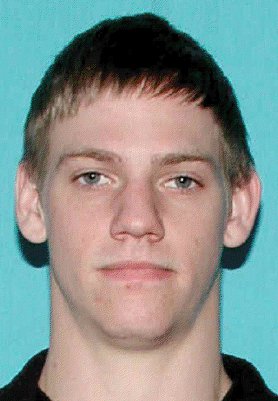 Lyle David Eutsler, 26, was intoxicated and speeding when he crashed his red Mazda MX6 into a pine tree while eastbound on Magnesium Road approaching Market Street, according to the Spokane County Sheriff's Office.
Deputies arrived to find Eutsler dragging himself away from the driver's door while two women remained trapped inside the crumpled car. One, 42-year-old Tina L. Patterson, died of her injures about 45 minutes later.
According to court documents, passenger Emilee Odell told police she was at a party when Eutsler and Patterson showed up and said they had a new car. She said Tina told Lyle he was driving too fast and that just before the crash, Tina yelled "Lyle!"
Odell was in the front passenger seat and suffered minor injures, but Patterson was in the back seat and sustained severe head trauma.
Police said Eutsler, who they estimate was driving 56-59 mph in the 35 mph zone, smelled of alcohol and had to be physically restrained in a harness at the Sacred Heart Medical Center emergency room because he was yelling and out of control. He later told a detective he wasn't driving and asked "How could I f***ing be driving when I was lying on the ground with broken ribs?"
A felony charge of vehicular homicide was filed against Eutsler this month after toxicology reports showed his blood-alcohol level to be .12 and indicated he'd recently smoked marijuana.
Eutsler's estranged wife, who has two children with him, told police he'd said he was going to leave the state. Police believe he may be driving a black 1987 Ford Thunderbird with Washington license plate ABP4206. They believe he may be staying on friends' couches and selling plasma for money.
Eutsler's parents live in the 1000 block of East Olympic. He has a best friend that lives on Wabash somewhere near the Northtown Mall, and his wife (possibly ex-wife) lives in the 7100 block of East Ninth in Spokane Valley, according to the Spokane County Sheriff's Office.
Anyone with information regarding Lyle Eutsler's whereabouts is encouraged to call Crime Stoppers at 1-800-222-TIPS or submit tips online.
---
---