Tue., June 28, 2011, noon
Murder defendant to wear shock device
SEATTLE (AP) — Jurors have spent the past three weeks listening to sometimes heart-wrenching testimony about the brutal rape and stabbing of a lesbian couple.
Now they're finally going to get their first look at the defendant, who will be wearing an electroshock sleeve so guards can jolt him if he gets out of line.
Isaiah Kalebu, 25, (pictured earlier this month) was so disruptive in pretrial hearings — som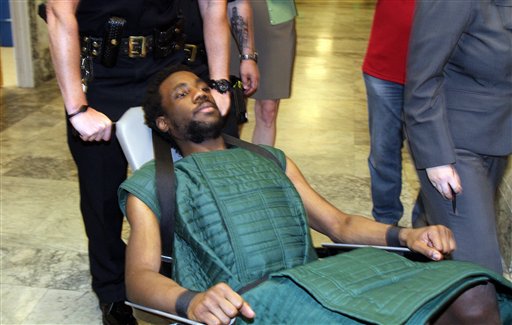 etimes cursing his own lawyers and knocking over chairs — that Judge Michael Hayden barred him from attending his own trial.
But that decision has run up against Kalebu's constitutional right to testify in his own defense, and Hayden said Tuesday he was taking special precautions to keep everyone in the courtroom safe when Kalebu testifies Wednesday.

The judge also warned him against thinking he could obtain a mistrial by resorting to his old tricks, which have included swallowing a small pencil at the King County Jail earlier this month.

"If you disrupt the courtroom as you have in the past, the jury will be excused and we will end your testimony," Hayden said. "There will be no mistrial."

"I'm not planning on acting up," Kalebu responded as he sat strapped into a restraint chair.

Kalebu is accused of slipping in an open window of the couple's home in Seattle's South Park neighborhood two years ago and repeatedly raping and stabbing them during a horrific two-hour attack. One woman, Teresa Butz, died naked and blood-soaked in the street in front of her home as neighbors tried to help; her partner survived and told the jury that Kalebu was the man who did it.

The use of such electroshock sleeves — called a Band-It — is rare but not unheard of during criminal trials. They consist of a small box that can be wrapped around a defendant's arm or leg and activated remotely by a corrections officer. The device would only be activated if Kalebu tries to assault someone, escape or otherwise refuses orders — not if he starts swearing or being verbally disruptive.

A defendant wore one during a trial in King County three years ago, and courts in other states have upheld their use as long as they are worn under street clothes to prevent jurors from seeing them.

Kalebu will also be wearing soft leather restraints under his clothes, and he'll testify while sitting from the defense table, rather than the witness stand, to prevent jurors from seeing his restraints or the electroshock device — either of which could be grounds for a mistrial, because such a glimpse could prejudice jurors.

The defendant's behavior has been extreme, even when he's not in the courtroom. He's been repeatedly taken to the hospital for what prosecutors dubbed "suicide gestures" rather than serious attempts, and he was hospitalized June 15 for the pencil-swallowing incident.

He first indicated that he wanted to testify Monday, when prosecutors rested their case. He said he wanted to be wrapped in a "dragon robe" or an American flag to hide his restraints, but Hayden refused.

He planned to question himself, because his lawyers didn't want to ask him anything. Instead, Hayden insisted Tuesday that Kalebu dictate in advance what questions he wanted asked, and one of his lawyers will ask them.

Despite a history of mental illness, Kalebu is not pursuing any type of mental-health defense. His lawyers, Michael Schwartz and Ramona Brandes, are arguing that he didn't commit the crime — an argument prosecutors say is amply disproved by DNA evidence and witnesses.

Prosecutors are not seeking the death penalty due to Kalebu's history of mental illness. Experts have found that although he might suffer from bipolar disorder, he has been faking or exaggerating the symptoms, and in January, Hayden found him competent to stand trial.

If he's convicted, he would face life in prison with no opportunity for release.
---
---