Fugitive assailant may be in CdA area
A fugitive wanted for failing to check in with the Idaho Department of Corrections may be in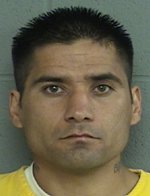 the Coeur d'Alene area.
Bonner County authorities say Grant "Bear" Timothy Larson, 31 (left), is possibly at a motel with friend Rok Tugmother Bass, 33 (below), and a woman identified only as Amanda.
They no longer believe Larson is with Marie Thompson, who they said last week may have been traveling with the fugitive to Canada
. The North Idaho Violent Crimes Task Force released updated information today based on tips.

Larson, 5-foot-7 and 210 pounds, has numerous tattoos, including "savage" and "oso tight" on his neck.
He was convicted of third-degree assault in king County in December and allowed to move to Idaho, but he didn't check in with authorities as required. Now he's wanted for escape from community custody. He's also wanted on assault and battery charges from 2008.
Anyone with information is asked to contact the task force at (208) 666-5747 or the Bonner County Dispatch at (208) 265-5525.
---
---