Thu., March 3, 2011, 8 a.m.
Grand jury indicts man for 71lbs of coke
A Canadian man arrested with 71 pounds of cocaine near the U.S. border last month faces at least 10 years in prison under a grand jury indictment filed Tuesday.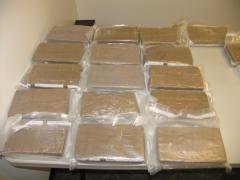 Jonathan Darren Smith, 39, has been in custody without bail at the Spokane County Jail since Feb. 16, when a border patrol agent spotted him on the east side of Highway 395 "frantically trying to climb the snowy berm at the edge of the roadway," near the Laurier border crossing, according to federal court documents.
Investigators found 30 individually wrapped, sealed packages of cocaine in two backpacks.
Smith declined to talk to investigators. His trial on one count of possession with intent to distribute 5 kilograms or more of cocaine is scheduled to begin May 10.
The charge carries 10 years to life in prison.
According to Canadian news reports, Smith was arrested with $165,000 in undeclared U.S. currency when he tried to enter B.C. in 2007. He was convicted in 2009.
He has not yet had a bail hearing in this case. He's represented by Jeffrey Niesen.
---
---