Fri., March 4, 2011, 11:40 a.m.
Wallet theft leads to 100 mph car chase
Two suspected wallet snatchers led the victim on a 100 mph chase in Spokane Valley Thursday night, police said today.
Valley resident Robert A. Hunter, 25, and Jenna L. Myers, 25, of Coeur d'Alene, were arrested on theft charges after allegedly fleeing the Tesoro gas station, 13800 E. Trent Ave., with a wallet Myers picked up in the parking lot.
A 22-year Spokane Valley man dropped the wallet about 7:45 p.m. as he exited his car to buy a soda at the store, where he was a regular customer. The store employee told police he saw Myers (pictured) get out of a car and pick up the wallet, then enter the store and whisper somet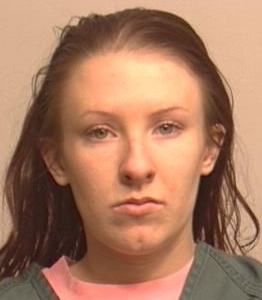 hing to Hunter before the two fled.
The victim ran to his car and pursued the couple westbound on Trent as the Tesoro employee called police with the suspects' license plate number.
The victim gave up the pursuit, police said, but officers soon arrested Hunter and Myers at Sprague Avenue and Flora Road. The victim told police the couple ran stop signs and reached speeds of more than 100 mph on arterials, neighborhood streets and Interstate 90.
Myers stashed cash in her underwear and threw the wallet from the car as they crossed a bridge over the Spokane River, police said. Officers recovered both.
Both suspects are to appear in court today on felony counts of second-degree theft of credit cards and third-degree theft for the wallet. Hunter also was booked for third-degree driving while license suspended.
Myers, a 2009 Crime Stoppers graduate, has at least two previous convictions for theft.
---
---