Wed., March 9, 2011, 9 a.m.
Guilty verdict in 1st Craigslist killing trial
TACOMA, Wash. (AP) — Jurors have convicted the first Craigslist killing defendant to go on trial of first-degree murder in the death of a Tacoma-area man gunned down in his home after advertising a diamond ring for sale.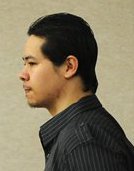 Pierce County Superior Court jurors deliberated only a few hours Tuesday before convicting 23-year-old Kiyoshi Higashi (right) in the death last April of 43-year-old Jim Sanders. Higashi was also convicted of first-degree burglary and two counts each of second-degree assault and first-degree robbery.
The News Tribune says Higashi could face a maximum penalty of life in prison.
Higashi is the first of four defendants to go to trial. He took the witness stand in combative testimony Monday and admitted taking part in the robbery, but denied shooting Sanders.
Sanders' brother, Derek, and widow, Charlene Sanders, are pictured above hugging supporters after the verdict.
Past coverage:
---
---