Wed., March 16, 2011, 9 a.m.
Canadian cocaine suspect asks for bail
A Canadian man arrested with 71 pounds of cocaine near the international border last month will ask a judge to grant him bail next week.
Jonathan Darren Smith, 39, filed a motion this week through his attorney, Jeffrey Niesen, asking to be released from jail pending trial. A h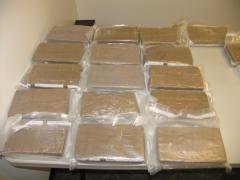 earing is scheduled next Wednesday before U.S. Magistrate Cynthia Imbrogno.
Smith is a former professional rugby player who played on the Canadian Rugby Junior National team in 1990 and 1994.
Known as Darren or "Grundy,".Smith's family said in letters that he is in "very poor health" after many concussions and a stroke five years ago that left him disabled on the left side of his body.
"His devotion to the togetherness of our family and his commitment to creating meaningful connections with our family is incredible," a cousin wrote.
Wrote Smith's uncle, "If we had more people like Darren then there would be less strife in the world and more understanding."
Smith worked construction for 16 years before suffering the stroke in March 2006. His criminal history includes a conviction in Canada for failing to declare currency while entering the country, as well as a drunken driving charge that's still pending.
Smith was born and raised in Kelowna, where his father currently resides, but lived at a home owned by his brother in Whistler, B.C. prior to his arrest on Feb. 16.
A border patrol agent spotted him on the east side of Highway 395 "frantically trying to climb the snowy berm at the edge of the roadway," near the Laurier border crossing, according to federal court documents. Investigators found 30 individually wrapped, sealed packages (pictured) of cocaine in two backpacks.
Smith has pleaded not guilty to intent to distribute 5 kilograms or more of cocaine, which carries a mandatory minimum of 10 years in prison.
---
---