Thu., March 24, 2011, 3:25 p.m.
Blu-ray thief got on tape in $800 heist
Police are looking for help identifying a man who stole more than $800 in movies from a Spokane Valley store.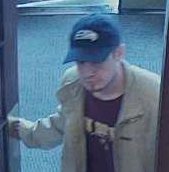 The thief, who appeared to be in his early to mid-20s, stole Blu-rav discs from Barnes and Noble, 15310 E. Indiana Ave., about noon on Feb. 16.
"The thief's tastes leaned toward television series such as The Office, Mad Men, Lost and Dexter," according to a news release by Sgt. Dave Reagan.
Surveillance photos show the man wearing jeans, a red shirt, tan jacket and dark cap .
Anyone with information on his identity is asked to call Crime Check at (509) 456-2233.
---
---