Fri., May 6, 2011, 11 a.m.
3 suspects charged w/ aggravated murder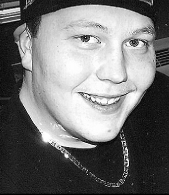 Three suspects in the homicide of Nicholas J. Thoreson, whose body was found in the trunk of his burning Thunderbird last month, face life in prison without the possibility of parole under charges filed this week.
Taylor James Wolf, 20; Justice Edward Dean Sims, 18; and Breeanna Catherine Sims, 19; have been charged with aggravated first-degree murder, which is punishable only by the death penalty or life in prison without parole.
Prosecutors are not seeking the death penalty, Deputy Prosecutor Mark Cipolla said Thursday.
Read the rest of my story here.
Thoreson is pictured.
Past coverage:
May 3: Homicide victim remembered in obituary
April 21: New details released on Forker Road homicide
April 14: Homicide victim was shot in the head; suspect jailed
---
---