Wed., May 18, 2011, 6:05 p.m.
Mud thwarts father-son theft suspects
A father and son became stuck in the mud Tuesday while leading police on an interstate chase after attempting to steal merchandise from the Wal-Mart just east of the Idaho-Washington border.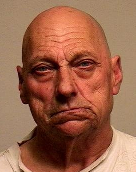 Michael R. Dyczok, 64, (left) and Michael Dyczok, Jr.,
35, (right) were arrested near East Wellesley Avenue and North Harvard Road just before 11 p.m. after leading Post Falls police on a high-speed chase in a blue Volkswagen Jetta.
Post Falls police began watching Wal-Mart after an employee said the men had filled storage containers with merchandise earlier that day and placed them near the fire exit. Police saw the men grab the storage containers and flee through the fire exit, then speed away in the Jetta.
But the father and son duo drove down a dead end road just across the Washington border and got stuck in mud, police say. Liberty Lake police assisted with the arrests.
Police say the Dyczoks threw a stolen X-Box from their car during the chase. It was recovered, along with other stolen merchandise located in the Jetta.
The men were booked into jail on charges of eluding police and tampering with evidence. The younger Dyczok also faces a charge of driving on a suspended California license.
---
---