Thu., May 19, 2011, 7 a.m.
Plea expected in bank robbery spree
A Spokane man suspected of a series of armed bank robberies is expected to plead guilty today.
Lucas G. Woodard, 34, faces up to 25 years in prison. The Federal Bureau of Investigation believes he may be the bicycle-riding bank robber responsible for a spree that began Dec. 22, 2009, and ended last October. More than $144,000 was stolen, according to court documents.
(A July 28 robbery at Spokane Teachers Credit Union on Indian Trail is pictured above; Chase Bank on April 19 is below.)
Attorneys have been negotiating a plea deal, and prosecutors filed eight bank robbery new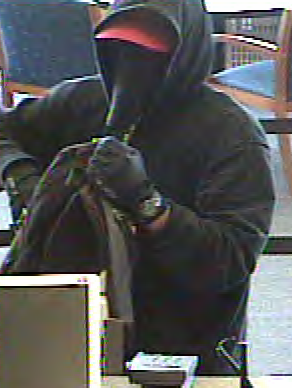 charges against Woodard Wednesday
He was previously charged with using a firearm in the commission of a violent crime, which carries seven years to life in prison, but that charge could be dismissed as part of a plea deal.
Woodward has been in jail since his arrest Oct. 14 after a gunpoint robbery at Washington Trust Bank on West Francis Avenue. Witnesses told 911 dispatchers where the robber fled, and Spokane police Sgt. Jason Hartman, who was in plain clothes and driving home, intercepted Woodard as he approached Salk Middle School.
Woodard's bike collided with Hartman's car, and the suspect's gun fell to the ground. Woodard reached for the weapon, but Hartman restrained him until backup arrived, police said.
The incident earned Hartman the medal of valor, the Spokane Police Department's highest recognition.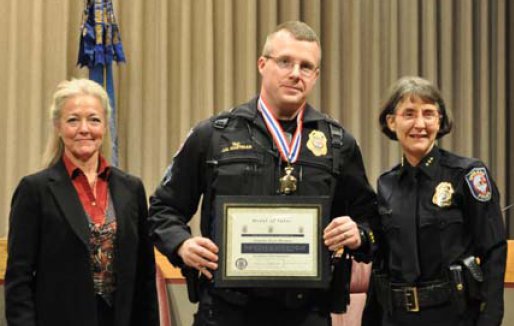 He's pictured with Mayor Mary Verner and Police Chief Anne Kirkpatrick.
"Sgt. Hartman had prior knowledge of this serial bank robber and knew him to be extremely dangerous," according to the SPD website. "Even though he was in plain clothes and not wearing a vest, Sgt. Hartman made the courageous decision to confront the suspect at that time to prevent his escape or his further endangering of innocent citizens, even if it meant he had to shoot it out with him then and there."
Woodard had no criminal record, was employed at Woodard Construction and was reportedly a regular at Maggie's South Hill Grill.
He lived alone in a rental home on High Drive on the South Hill. After his arrest, he thanked federal agents "for treating him well, explaining that…because of what he did, he could have been treated poorly," according to an affidavit filed in U.S. District Court. "
Woodard admitted that although he had a gun, he would never have used it. Woodard also stated that he was a 'gentle guy' apart from the robberies that he committed."
Along with the Oct. 14 heist, Woodard is accused of the following robberies:
Dec. 22, 2009: Sterlving Savings Bank, 3000 S. Grand Blvd.
Feb. 13, 2010: Chase Bank, 2215 W. Northwest Blvd.
April 19, 2010: Chase Bank, 2215 W. Northwest Blvd.
May 18, 2010: Chase Bank, 3007 E. 57th Ave.
May 26, 2010: U.S. Bank, 621 E. 30th Ave.
July 28, 2010: Spokane Teachers Credit Union, 8703 N. Indian Trail
Aug. 13, 2010, Inland Northwest Bank, 2110 N. Ruby St.
---
---