Racial slurs, 'KKK' costume lead to arrest
A woman was arrested on suspicion of a hate crime on Halloween after a black man told Spokane police he opened his front door to her yelling racial epithets while wearing a white sheet with "KKK" written on it.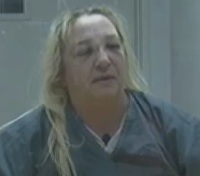 Sharyl Ann Curtis, 42, also sprayed a liquid at Tyree Brown's children that she said was bleach that would make everyone white, according to a probable cause affidavit written by police in support of a malicious harassment charge against Curtis. (Curtis is pictured courtesy KHQ-TV. Check out their interview with her here.)
Police found Curtis sitting in a park near Brown's home in the 5000 block of North Lacey Street "yelling unintelligibly."
While being treated at a hospital, Curtis allegedly told police "I will raise my son white power" and used a racial slur while raising her right arm in the air, according to the affidavit.
"My son will shoot a cop one day and I will give them the ammo," Curtis also allegedly said, along with repeated racial epithets against the police.
Brown told police he'd heard a woman yelling racial epithets and asking if he had candy. The sheet fell off when the woman walked down the apartment stairs, and Brown recognized Curtis "from fights and other incidents in the neighborhood."
Brown's two children were standing in the stairwell when Curtis sprayed the bottle toward them. None of the liquid hit them, but police observed a Halloween decoration that was splashed. Witnesses said Curtis ran to the nearby park and yelled that she would get a gun and shoot everyone. A neighbor confronted her and a fight ensued before police arrived, according to the affidavit.
Curtis left the Spokane County Jail after posting bond imposed during her first court appearance on Tuesday, according to online jail records. She was arrested on a malicious harassment charge last August after a neighbor told police Curtis yelled racial slurs and started a fight. No charges were filed.
---
---