2 stabbings, 4 arrests in armed robbery
A gunpoint drug robbery at a northeast Spokane home led to two stabbings and four arrests early Saturday.
A victim, identified in court documents as Jason Paz, called police about 2:20 a.m. and said he'd been stabbed at a home in the 3900 block of East Ermina Avenue.
Spokane police officers found the second victim, Kelley L. Tate, at the home with cuts to her face; she was transported to a hospital in serious condition, according to court documents.
A third alleged victim, Willie Sprayberry, told police he was sleeping in the basement when he was awakened by three men who told him he was being robbed. They led him at gunpoint upstairs to Tate and Paz, where Tate rushed the gunman and was hit in the head with an unknown object, according to police. The robbers stole cash, a wallet and a bone-handled knife before fleeing, officers said.
Witnesses said suspect James R. Sprayberry, 26, (pictured) waited in a car outside. It's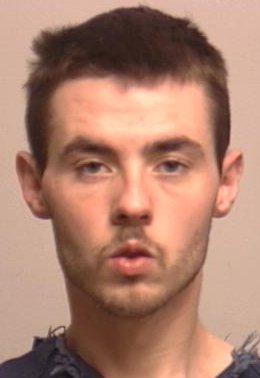 unclear how he's related to victim Willie Sprayberry.
Police drove to Sprayberry's home in the 1600 block of West York Avenue and stopped a vehicle nearby with six suspects.
Tate identified Shanteek M. Pruitt, 19; and Christopher L. Eakle, 24, as being in the home. Police found a bloody knife in Christopher A. Stoker's pocket, which led to the 27-year-old's arrest.
Pruitt told police she was at a party when she wanted to buy marijuana, so she drove to the north side with Stoker, Eakle, Sprayberry and a person who was not arrested.
Pruitt went into the home after about 20 minutes and saw Eakle and Paz fighting over a bag of marijuana before Eakle stabbed Paz several times, according to court documents.
Stoker said he had a "vicious fight" with the homeowner and that Pruitt originally had the knife but that he didn't see the stabbing.
Stoker also told police he was "screwed because he was a three striker and would go to prison for the rest of his life," documents say.
The suspects appeared in Superior Court today on first-degree robbery and first-degree burglary charges.
---
---