Tue., Oct. 4, 2011, noon
Officer avoids head-on crash w/ convict
A convicted car thief took a man living in a Jeep Cherokee for a wild ride late Friday that nearly included a head-on collision with a Spokane police cruiser, officers say.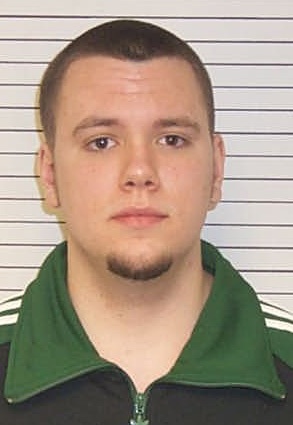 Tyray H. Munter, 24, (pictured) who has previously led police on high-speed chases, is accused of stealing a white 1991 Jeep Cherokee that was parked outside the Union Gospel Mission.
The Jeep's owner, Steve Wilkinson, told officers he was sleeping hard after a night of drinking when he awoke to someone driving his car as police sirens blared behind.
Wilkinson said he'd never met the man before and asked him repeatedly to pull over, but the thief refused.
Officer Erin Blessing was en route to a domestic violence call when she saw the Jeep turned the wrong way onto Third Avenue. She tried to stop the vehicle but "it actually sped up even more" and drove directly at her.
Blessing drove up on a curb to avoid a collision. The Jeep was suspected in a rear-end hit-and-run crash at East Ninth Avenue and South Altamont Boulevard minutes earlier.
Blessing pursued the vehicle until it crashed near East Newark Avenue and South Arthur Street. Two pedestrians had to run out of the way to avoid being hit, according to court documents.
Munter remains in jail on $3,500 bond on charges of unlawful imprisonment, attempted second-degree assault, attempting to elude police and second-degree taking a motor vehicle with permission, as well as a no-bail hold from the Washington Department of Corrections.
Munter has a previous conviction for possession of a stolen motor vehicle for a high-speed police chase in a stolen car in September 2010.
---
---