Thu., Oct. 13, 2011, 8 a.m.
Openings in Thompson trial today at 9 a.m.
Opening statements in the trial of Spokane police Officer Karl Thompson, charged in connection with the death of Otto Zehm, are to begin at 9 a.m. today in Yakima.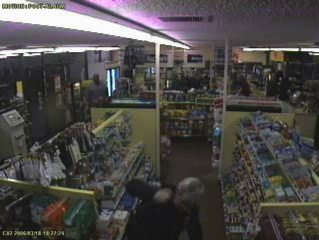 Reporter Tom Clouse will be providing daily coverage from the courthouse in The Spokesman-Review and at our website. Here's his story on the jury pool, which is comprised of eight men and four women.
A screen shot of surveillance video from the altercation at Zip Trip is pictured.
Those looking to follow along with opening statements can
check out my Twitter page here
. I will be providing minute-by-minute updates from the live feed of the trial at the federal courthouse in Spokane. You can sign up for Twitter and follow me, or you can simply
check my page
whenever you're looking for an update. Text message updates are available.
For those wanting to know more about Thompson and Zehm, here are a couple of profiles:
---
---