WEDNESDAY, OCT. 19, 2011, 11:32 A.M.
Jim Nicks testifies at Thompson trial
Assistant Spokane Police Chief Jim Nicks told jurors in Officer Karl Thompson's excessive force trial this morning that Thompson approached him a year ago and told him he'd tried to take back his initial statement about Otto Zehm lunging at him.
At the request of federal prosecutors, Nicks also read to jurors an email sent to police employees the night of Thompson's fatal confrontation with Zehm on March 18, 2006.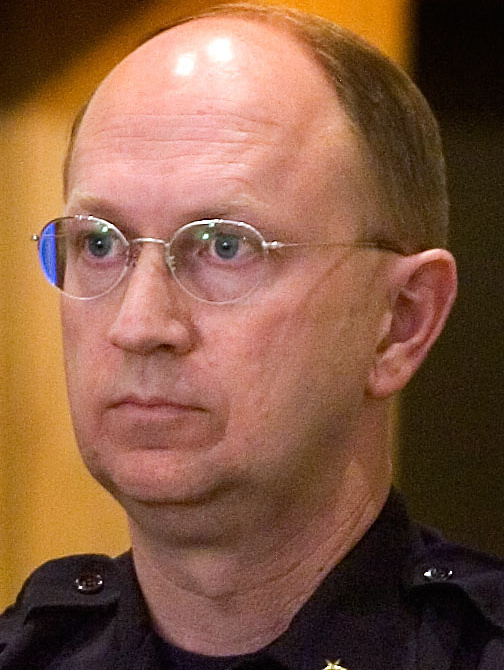 Written by Tom Lee, SPD public information officer at the time, the email doesn't name Thompson but said an officer responding to a report of a suspicious person encountered a "large and strong" man who "immediately lunged" at him.
The man was controlled after several minutes of "hand to hand combat," according to the email, but stopped breathing without warning after medics responded.
Assistant U.S. Attorney Tim Durkin asked Nicks, wearing a dark suit instead of a police uniform, if the information in the email was consistent with what he heard when he talked to police at the Zip Trip.
"Yes, that's very accurate," Nicks responded.
Nicks then told jurors that, about a year ago, Thompson approached him at the Public Safety Building and told him he'd corrected him about the lunge statement, which Nicks disputes.
"That would have been very memorable, and I don't have any memory of such a conversation," Nicks told jurors.
Prosecutors ended questioning by asking Nicks if anyone ever corrected him about the claim that Zehm lunged at Thompson.
"No," Nicks said.
In cross examination, defense lawyer Steve Lamberson emphasized that Nicks never actually talked to Thompson that night. Thompson never told Nicks Zehm lunged at him, Lamberson said.
"That's correct," Nicks said.
Lamberson went over Lee's email and focused on statements that the Taser was ineffective, and it took several minutes of hand-to-hand combat to control Zehm.
He also pointed out that Nicks never bothered to correct statements he'd made to the media after he reviewed the video. Nicks replied that he was waiting for the investigation to be complete.
Lamberson also pointed out that Thompson is still employed by the Spokane Police Department.
Spokane County Medical Examiner Sally Aiken is testifying now. Get minute-by-minute updates from the trial here.
Spokane police Officer Tim Moses' lawyer, Chris Bugbee, stopped by the live feed of the trial at the Spokane federal courthouse and said Moses is ready to be in Yakima tomorrow to testify.
---
---