Fri., Oct. 21, 2011, 3:25 p.m.
McIntyre describes 'intimidation' by FBI
A Spokane police officer who is the target of a grand jury investigation for her role in the Otto Zehm case cried on the stand today as she alleged intimidation by federal agents.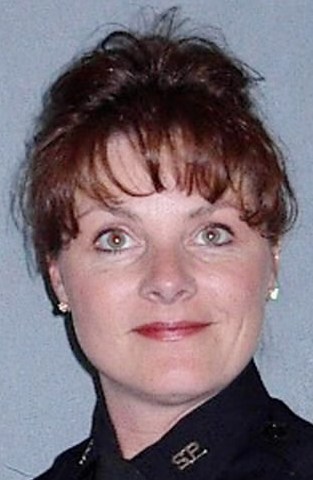 Sandy McIntyre, who has a "father-daughter relationship" with Karl Thompson, has previously told federal investigators she though Thompson overreacted after she watched the video of the confrontation with Zehm.
But she told jurors in Thompson's excessive force case today that she doesn't actually believe that and doesn't remember saying that.
"I did not think he overreacted. I did not see the whole video and I wasn't there," McIntyre said. "It's unfair of me to say he overreacted; I wasn't there."
Federal prosecutor Victor Boutros said McIntyre talked to Thompson after watching video, but McIntyre said "I didn't speak to him about what was on the tape."
Boutros said McIntyre exclaimed out loud that there was never a lunge, which McIntyre denied.
"I would not have made a note of that," she said.
Boutros pointed out that after Acting Police Chief Jim Nicks told the department about the lunge, "You never corrected lunge lie, even though you knew it wasn't true."
McIntyre replied: "I wasn't at work. It wasn't my job to correct that."
McIntyre began crying when Thompson's lawyer, Carl Oreskovich, asked her whether she was scared when FBI threatened to charge her with obstruction of justice. She said it "very much" frightened her, though Boutros said the warning was a stand thing said before all interviews.
Oreskovich asked about her children, ages 19 and 14.
"My career means the world to me, just like my family does. That being said, it scared me to death," McIntyre said. "I was told 'now's the time to save yourself.'"
McIntyre said that if you look at just a portion of the video or what's on TV "Yeah it looks horrible, it looks bad" but "I wasn't there when it started." Only Thompson was, she said.
McIntyre admitted that she said "I don't recall" to grand jury questions when she actually did recall portions of it. "I did not feel like I could expand on my answers," McIntyre said.
Oreskovich emphasized to jurors that federal agents "scared the hell" out of McIntyre to get her to say certain things to the grand jury.
Also testifying today was Officer Erin Raleigh.
Check out my minute-by-minute coverage here.
Look for Tom Clouse's full report from Yakima in The Spokesman-Review. We'll be back with full coverage on Monday.
Past coverage:
Oct. 21: Tim Moses claims feds manipulated him
---
---