Wed., Sept. 28, 2011, 5 p.m.
Canadian cocaine smuggler gets 4 years
A Canadian man caught with 71 pounds of cocaine near the international border in February has been sentenced to about four years in prison.
Jonathan Darren "Grundy" Smith, 40, is to serv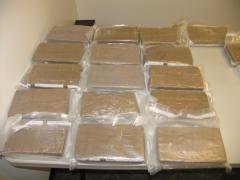 e 51 months for possession with intent to distribute 5 kilograms or more of cocaine.
Smith faced 10 years in prison, but his lawyer asked for a reduced sentence because Smith was not to be involved in the distribution of the cocaine once he smuggled it into Canada.
Smith had traveled into the United States to obtain the cocaine when a border patrol agent saw him on the east side of Highway 395 on Feb. 16 "frantically trying to climb the snowy berm at the edge of the roadway" near the Laurier border crossing, according to court documents.
Police found 30 packages of cocaine in two backpacks.
Investigators believes Smith, who played on the Canadian Rugby Junior National team in 1990 and 1994, is the same Grundy described as a major drug smuggler during a briefing with an informant in 2009.
Smith's father was convicted of flying a plane full of marijuana into Redding, Calif., and Smith has traveled around the world, including Australia, the United Kingdom, Singapore and Mexico. He was living at his brother's condominium in Whistler, B.C., before his arrest.
Prosecutors had objected to a reduced sentencing for a mitigating role, saying that Smith's conduct was neither minimum nor minor.
"The cocaine could not be distributed in Canada without first being exported from the United States into Canada. In keeping with the critical nature of this role, it was not left to chance but was assigned to the an experienced and well compensated smuggler," according to court documents prepared by prosecutors. "As a result, the Defendant's conduct would not have been substantially less culpable than that of the average co-participant in the presumed, uncharged conspiracy."
U.S. District Judge Justin Quackenbush sentenced Smith to 51 months in prison on Friday. He remains in the Spokane County Jail awaiting transport to federal prison.
Past coverage:
March 24: Cocaine suspect already on DEA's radar
---
---