Pit bull owners face cruelty charges
A dog owner is facing animal cruelty charges after bringing his emaciated, starving pit bull to the vet.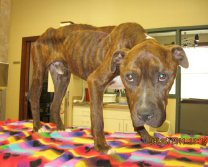 The Spokane County Regional Animal Protection Service filed a charging request against Randy Jensen for first-degree animal cruelty and second-degree animal cruelty. Charging requests were also filed for his sister, Talina Jensen, also faces of first-degree animal cruelty and confinement in an unsafe manner.
Randy Jensen took the dog, Jackson, in for veterinary care Sept. 9 after he lost about 20 pounds and stopped eating, according to a SCRAPS news release. However, Jensen did not have the money for the recommended exam but did not want to euthanize the dog. He brought Jackson to his sister Talina Jensen for care, but Jackson continued to suffer "substantial and unjustifiable pain," the news release said.
On Sept. 26, SCRAPS animal protection officers rushed Jackson in for veterinary care after they began an investigation. Tests showed Jackson's intestines had burst and he was septic, the news release said.
Jackson was euthanized.
"Jackson suffered for several weeks and the charges reflect the serious nature of the crimes committed against him," said Nicole Montano, lead animal protection officer. "SCRAPS takes the issue of animal cruelty and neglect very seriously and this was an extreme case of cruelty and neglect."
SCRAPs urges anyone who sees an animal being mistreated to call (509) 477-2532
---
---