TUESDAY, APRIL 17, 2012, 12:43 P.M.
Wedding ring set recovered in bike theft
The Spokane Sheriff's Office is looking for the owner of a wedding ring set that was found after two suspected bicycle thieves were arrested Monday.
Corrections deputies recovered the rings from the front pants pocket of Damen J. Banning, 34, while booking him into jail on suspicion of first-degree trafficking in stolen property.
Deputies arrested Banning and Colleen Sue Janson, 52, (pictured) after responding to North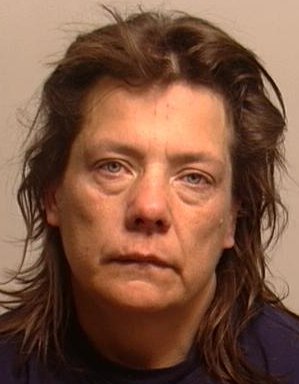 Division Bicycle, 10503 N. Division St., for a report of a stolen bicycle.
The two told Deputy Terry Liljenberg they were trying to sell the bicycle for a friend. Janson gave Liljenberg a false name, but Deputy Jeff Shover arrived and recognized her, then dispatchers confirmed she had a warrant for misdemeanor theft, according to the sheriff's office.
Employees realized the bicycle was stolen after their mechanic noticed it was purchased at Bicycle Butler, 6520 N. Ash St., in February and called the shop to obtain the purchaser's information, according to the Sheriff's Office.
Liljenberg contacted the owner, who said he didn't know his bicycle was missing. He left it in his garage on Saturday but accidentally left door open overnight, the sheriff's office said. The bike was returned.
Banning, whose previous convictions include theft and vehicle prowling, was booked on the trafficking charge; Janson was booked on the theft warrant as well as new charges of making false and misleading statements and first-degree trafficking in stolen property.
Anyone who has had a wedding ring stolen and has made a report is asked to call Crime Check at (509) 456-2233 and provide the report number. You must provide proof of ownership to get the ring back.
Janson has a long criminal history and was a witness in a 2008 drug-fueled murder that police say was over $7.25.
Crime Stoppers targeted her in February 2010 to ensure she would be available to testify at trial.
She didn't end up needing to - the killer, Terry L. Conner, pleaded guilty and was sentenced to 31 years in prison. His accomplice, Aaron Lyons, received 10 years.
---
---