Thu., April 19, 2012, 10 a.m.
CdA man arrested w/ 10 lbs of pot
A Coeur d'Alene man was arrested in southern Oregon Wednesday with 10 pounds of marijuana.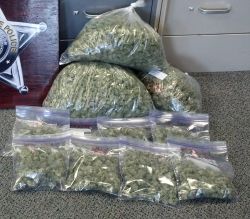 Robert J. Nuszkiewicz, 50, was stopped for a traffic violating about 9:30 a.m. on Interstate 5 near milepost 90 in the Canyonville area.
An Oregon State Police drug dog discovered the marijuana inside the van. Nuszkiewicz was the only occupant.
He was booked into the Douglas County Jail, then ordered to appear in Douglas County Circuit Court at a later date for unlawful possession and delivery of marijuana.
He has no serious criminal record in Idaho or Washington.
---
---