Thu., Jan. 26, 2012, 12:50 p.m.
Sex offender arrested for child porn
Spokane police Officer Tyler Cordis escorts sex offender Christopher Ebner to a patrol car after his arrest on child pornography charges today. (SPDphoto)
A sex offender was arrested today for allegedly possessing child pornography.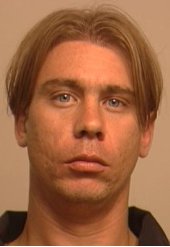 Christopher Michael Ebner, 37, lives in the 1400 block of North Hodges Road in Spokane Valley, which is near the Central Valley Kindergarten Center and the Central Valley bus garage.
Detectives discovered Ebner had a large amount of child pornography on his computer and that he was sharing the material online.
The videos depicted children who appeared to be as young as 8 years old, police said. Ebner was booked into jail about 9:15 a.m.
Ebner is a level 2 sex offender with convictions in 2005 for third-degree rape of a child and possession of child pornography.
He was arrested in 2004 for having sex with a 14-year-old girl he met through an Internet chat room. Police found child pornography on his computer then, according to a previous report.
He was sentenced to 26 months in prison and four years probation, according to court records.
Today's search warrant was one of four related to child pornography in recent weeks, police said.
---
---