Tue., July 24, 2012, 5:34 p.m.
Boy home alone meets 'prolific burglar'
Spokane police arrest burglary suspect Jay M. Shippy, 23, on Monday. (SPDphoto)
A 13-year-old boy home alone came face to face with a man police describe as a "prolific burglar" after the thief smashed in a basement window Monday, authorities allege.
The boy was at his home in the 400 block of West Carlisle Avenue while his mother was at work when he heard a knock on his door about 12:35 p.m. He looked out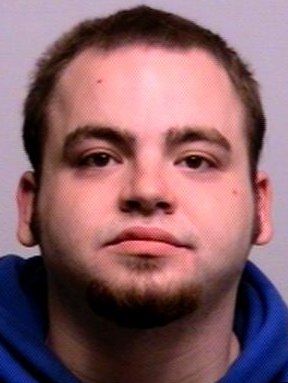 the window and saw a man identified by police as Jay Michael Shippy, 23, walking away.
Shippy already is charged in Spokane County Superior Court for a string of burglaries, including one in January at the home of prominent lawyer Carl Oreskovich. He was out of jail awaiting trial when he was arrested Monday.
The boy heard another knock a few minutes later, then heard a window being broken. He heard the basement door knob turning and yelled "hello" before running out the front door to his neighbor's home to call police.
The boy saw the burglar running from behind the home, and they met in the driveway before the boy ran to the neighbor's and the man ran eastbound, according to court documents.
Officer Nate Spiering chased Shippy in his motorcycle before arresting him a few blocks from the Carlisle home. Shippy had a backpack with jewelry inside as well as gardening gloves.
Shippy already is awaiting trial on 23 felony charges related to an alleged burglary spree with Randle "Kyle" Phelps, 29, and Jessica L. Davis, 25.
Shippy is accused with Davis of burglarizng Oreskovich's home on Jan. 19. The longtime lawyer told police he arrived home about 5:30 p.m. and saw an unknown man and woman standing in his home, according to court documents. One ran out the front door and the other the back. Oreskovich reported missing $300 in coins, a laptop and gold jewelry. He told police he'd left his door unlocked, according to court documents.
After Shippy was arrested in April, he directed deputies to Oreskovich's home while giving a tour of places he'd burglarized. Shippy was released shortly after his arrest because charges weren't immediately filed.
Shippy pleaded not guilty to the charges in June after being summonsed to court and was allowed to stay out of jail on his own recognizance. Now he's back behind bars.
---
---