Wed., March 21, 2012, 1 p.m.
Spokane police bust suspect chop shop
A stolen Honda Civic located outside a north Spokane garage Tuesday led police to raid a suspected chop shop and arrest two men.
Dennis A. Martynenko, 23, and Brandon C. Hill, 18, were booked into jail on two counts of possession of a stolen motor vehicle after Spokane police Cpl. Shane Oien spotted th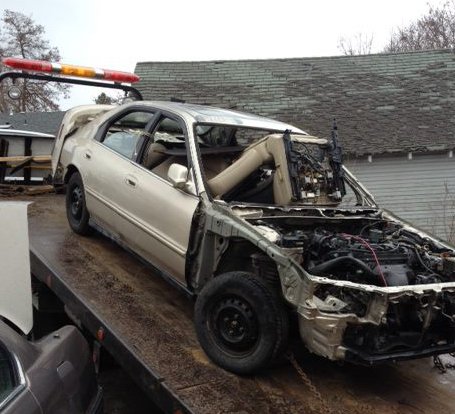 e stolen Civic parked outside a detached garage near 4000 N. Pittsburg St.
Martyenko and Hill were removing wheels, tires and other parts from the Civic and putting them another car, police say.
Officers with the Spokane police Patrol Anti-Crime Team saw two other Hondas inside the garage that were stripped down and had parts swapped out .
Officers also observed other cars parts such as seats, hoods, fenders, bumpers and molding throughout the garage, as well as a stolen Honda scooter. Police contacted the owners of the white Honda and the scooter, who "gratefully responded to identify and take possession of their stolen property," police said today.
The Spokane police Targeted Crimes Unit served a search warrant at the garage and recovered the stolen vehicles, as well as stolen tools. They say the garage appears to be used as a chop shop where stolen cars are disassembled and their parts redistributed.
Police say Martyenko is a repeat offender with seven felony conviction for property crimes. Hill also has a criminal history, police said.
"This arrest is part of the Spokane Police Department's effort to identify and apprehend repeat offenders in order to minimize theft and property crimes within the City of Spokane," according to a news release.
Police offered the following tips to protect yourself from theft: Watch for individuals who are out of place in your neighborhood. Don't leave valuables in plain view, even if your car is locked. Always park in high-traffic, well-lighted areas when possible. Invest in the purchase of anti-theft security devices. If your vehicle is stolen, report it to the police immediately.
Hondas are the most stolen car in Washington state.
---
---