WOBURN, Mass. (AP) — A Delaware man who attended Harvard University for two years before getting kicked out pleaded not guilty Tuesday to charges he fabricated a perfect record of academic achievement to get into the Ivy League school.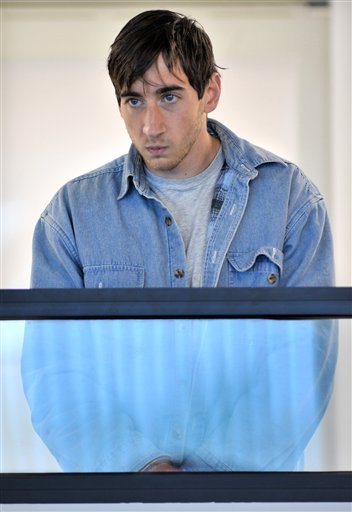 Adam Wheeler (right) was tossed from Harvard when he tried to get the school's endorsement for Rhodes and Fulbright scholarships, and a professor reviewing his applications found evidence he had plagiarized from another professor, prosecutors say.
Wheeler's parents gave him up to a Yale official who called to ask about their son's transfer application.
At his arraignment Tuesday, Wheeler was ordered held on $5,000 bail on 20 counts of larceny, identity fraud and other charges. If he makes bail, he must stay away from Harvard and the other academic institutions involved in the alleged scheme, surrender his passport and remain in Massachusetts, a Middlesex Superior Court judge said.
The 23-year-old Wheeler claimed he got a perfect score on the SAT, straight A's at prestigious prep school Phillips Academy Andover and at the Massachusetts Institute of Technology on his application to Harvard in 2007, prosecutors said. In reality, he had never attended either school, Middlesex District Attorney Gerry Leone said.
Read the rest of the Associated Press story by clicking the link below.