FERRIDAY, La. (AP) — Arthur Leonard Spencer says sure, he made some mistakes back when he was a "snot-nose kid," like joining the Ku Klux Klan. But murder?

No, the 71-year-old Spencer says, a small-town weekl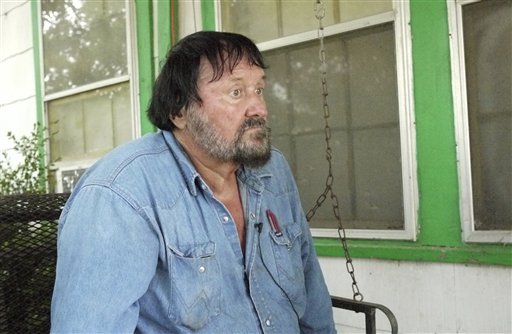 y paper got it wrong when it reported recently that he may have been involved in burning down a black man's shoe repair shop in 1964 with the owner inside.

"I feel sorry for his family, but I didn't have nothing to do with it," said Spencer, pictured last August.

No law enforcement agency has named Spencer as a suspect. But for the dead man's family, still praying for justice 46 years later, it's a welcome if not entirely solid lead.

The allegations were reported by the Concordia Sentinel of Ferriday, whose editor, Stanley Nelson, has dedicated the past four years of his life to an all-consuming investigation of the blaze that killed 51-year-old Frank Morris. (Morris is pictured above, fourth from right wearing a visor, in front of his shoe repair shop in the 1950s.)

Nelson (right) has written more than 100 stories about the case, culminating in an a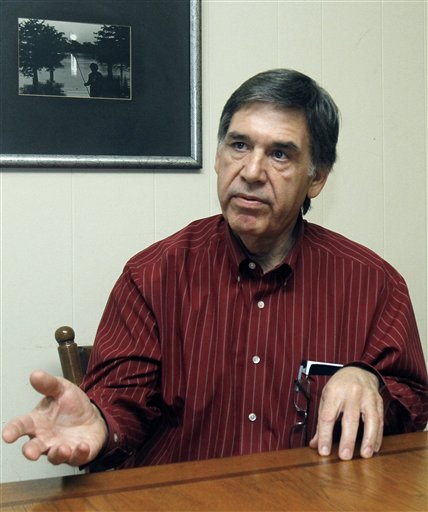 rticle that quoted Spencer's estranged son, his ex-wife and her brother as saying the former Klansman confessed to taking part in the crime.

Morris' slaying is one of more than 100 unsolved cases from the civil rights era that the FBI reopened in recent years. But for Nelson, the Morris case was unique, because it happened in his town. He has pledged to solve the crime once and for all.

The motive for the attack is not clear.

By most accounts Morris was well liked around town by both his black and white customers. He was separated or divorced and lived alone in a back room at his shop.

He was not known to be actively involved in the civil rights movement, which made black men targets in those days. And FBI documents indicate at least one witness debunked rumors that Morris had courted white women — a virtual death sentence in that era. Still, just being a successful black businessman with a white clientele and having contact with white women was enough to enrage many people back then.

Others have speculated that Morris may have been targeted for refusing to do shoe repairs for a corrupt sheriff's deputy, who wanted the services for free.

Whatever the case, heavily censored FBI files from the time paint a chilling picture of Morris' death.
Read the rest of the story by Associated Press writer Holbrook Mohr by clicking the link below.