LAS VEGAS (AP) — The bankrupt son of a Las Vegas judge followed a crude holdup at a posh casino by racking up hundreds of thousands of dollars in gambling losses and spending a week like a high roller, but got caught after tryin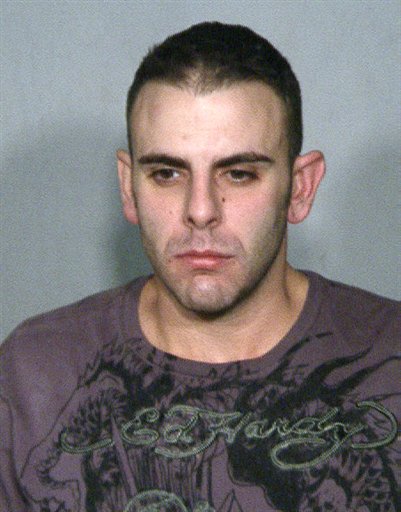 g to hawk his stolen chips online to poker players, police said Thursday.

An arrest report for the helmeted bandit, who ran out of the Bellagio hotel-casino with $1.5 million in chips during a gunpoint heist Dec. 14, said Anthony M. Carleo (pictured) lost about $105,000 at the resort over the next month — including $73,000 on New Year's Eve. He stayed at least one week at the resort in late January, enjoying meals, drinks and rooms furnished by the casino.

"He likes to gamble," Las Vegas police Lt. Ray Steiber said as he described for reporters how Carleo, 29, was nabbed late Wednesday on the same casino floor from where the chips came.

Carleo wasn't armed and offered no resistance when he was taken into custody.

Police recovered $900,000 in chips of different types — the ones stolen ranged from $100 to $25,000 — and can account for $1.2 million, Steiber said.
Read the rest of the story by Associated Press writer Oskar Garcia by clicking the link below.