WENATCHEE, Wash. (AP) — A Wenatchee man accused of killing a beauty school classmate pleaded guilty to first-degree manslaughter in a plea deal Wednesday and was sentenced to more than 14 years in prison.
Jury selection had been under way for the tria
l of Christopher Scott Wilson, 31, who was charged with first-degree murder in the February 2010 death of 17-year-old Mackenzie Cowell.
Wilson also pleaded guilty to first-degree robbery, as well as second-degree assault on another woman, under the plea deal.

Chelan County Superior Court Judge John Bridges sentenced Wilson to 171 months.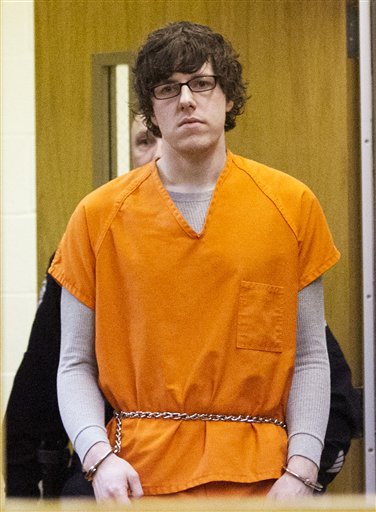 Bridges noted the toll the case took on the entire community in Wenatchee, an agricultural city that boasts itself as the "Apple Capital of the World." Police investigated the killing for seven months, interviewing more than 800 people, before arresting Wilson for Cowell's murder.

It's almost impossible to find the words for the family of the victim, the family of the defendant or the community, Bridges said.

"It's just too bad for all of us, but I wanted you to know we're all kind of in this together," he said. "So, Mr. Wilson is going to prison."

Wilson showed no emotion during the hearing. Before the trial began, he had rejected a 10-year plea offer.

Reid Cowell, the victim's father, recalled a young, vibrant girl who trusted Wilson and allowed him to lure her to her death.

Cowell was a high school senior and dance team member who also studied at the Academy of Hair Design on weekday afternoons. On the afternoon of Feb. 9, 2010, she told classmates she would only be gone 15 minutes, and surveillance video later showed her walking to her car and driving away.

Police found her abandoned vehicle 5 miles away on a rural road. Four days later, Cowell's body was found on the edge of the Columbia River, some 20 miles south of Wenatchee.

She had been struck in the head, strangled and stabbed to death.

During the investigation, three people reported seeing a person closely matching Wilson's description walking down the road near where Cowell's car had been abandoned. DNA found on duct tape near Cowell's body was linked to Wilson and her DNA was linked to blood found in his apartment.

According to court documents, several people also contacted police with concerns about Wilson after Cowell disappeared. One person wrote a letter to police claiming Wilson was obsessed with dead bodies and serial killers. Another said Wilson told her he liked to "cut people up" when he was working at area funeral homes.

However, a judge barred prosecutors from introducing that work history — or mentioning his tattoo of fictional serial killer Hannibal Lecter — at trial, and ruled that the defense may introduce evidence of other suspects.

Prosecutor Gary Riesen said the loss of a 17-year-old girl isn't something one can put a value on in the criminal justice system.

"It's a case where the result of today's hearing probably won't be satisfactory to anyone," he said in court, "but I think it does bring some closure."