A devil-worshipping sex offender who recently moved to Spokane from Texas has registered at a new address in downtown Spokane.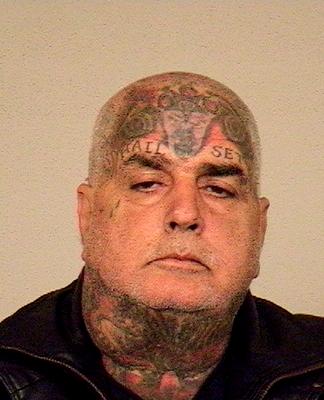 Danny "Triple 6" Walter Schertz, 61, is living at the New Washington apartments, 327 1/2 W. 2nd Ave., according to the Spokane County Sheriff's Office.
He's not under supervision and is not wanted by police. He's classified as a level 3 sex offender, the classification considered most likely to reoffend, and is required to check in with authorities quarterly now that he has a permanent address. He's due at the Sheriff's Office in September.
Schertz has convictions for rape, kidnapping and pimping and spent time in a federal prison for charges related to kidnapping a teen girl and pimping her at truck stops across the county, according to the Sheriff's Office. Read the original article about him here.

He uses a wheelchair but has some mobility in his legs, detectives said.
"How can I sneak in under the radar when I wear Satanic tatoos and symbols all over me?" Schertz said. "Like a guy at the (downtown bus) plaza said, 'you stand out like a sore thumb.'"

Schertz denied any sexual abuse and said he's a proud Satanist.
"I just want to be left alone," Schertz said. "I'm just out doing my own thing, and it don't have anything to do with no teenagers or no kids, or anything illegal."
In a phone conversation this morning, Schertz took issue with this blog post in which the Church of Satan denied he's a member.
Schertz claims to be a member of both the Temple of Set and the Church of Satan. An email to the Church of Satan seeking comment was sent this afternoon.
Schertz said today that he joined the Church of Satan while a prisoner in Stillwater, Minn. in the 1970s, where he was serving 13 months on a charge related to procuring prostitution, according to the Minnesota Department of Corrections.
"If you were to print anything that I don't belong to the Church of Satan in your newspaper, that's going to be a lie," Schertz said.
He said he fought the prison system for the right to practice Satanism and was able to have his Church medallion and membership certificate mailed to him there.
His girlfriend at the time dropped off a robe for him to wear as he practiced Satanic rituals, he said.
"I'm a Satanist and I'm not going to change my religion for you or anybody else," he said. "I've got Christian friends. I've got Catholic friends. I've got friends in all different religions."
He emphasized what the Church of Satan said in an email to The Spokesman-Review last month: "Satanists, they don't harm children."
"I don't go around looking for kids," Schetz said. "Young kids give me a headache."