NASSAU, Bahamas (AP) — The teenage "Barefoot Bandit" who allegedly stole cars, boats and airplanes to dodge U.S. law enforcement was nabbed today as he tried to make a water escape then brought handcuffed — and shoeless — to the capital, abruptly ending his two-year life on the lam.
Colton Harris-Moore was arrested before dawn in northern Eleuthera, said Sgt. Chrislyn Skippings, a spokeswoman for the Royal Bahamas Police Force. A contingent of high-ranking officers traveled to the island and took the suspect to Nassau, the country's capital, where he faces possible extradition to the United States.
True to his nickname, the 19-year-old suspect was barefoot as he stepped off the plane. He kept his head down and ignored questions shouted by reporters.
Escorted by six police cars and SUVs, the teen had close-shorn hair and wore short camouflage cargo pants, a white long-sleeved shirt and a bulletproof vest. Police blocked traffic on the route to the Central Detective Unit where he was taken for processing.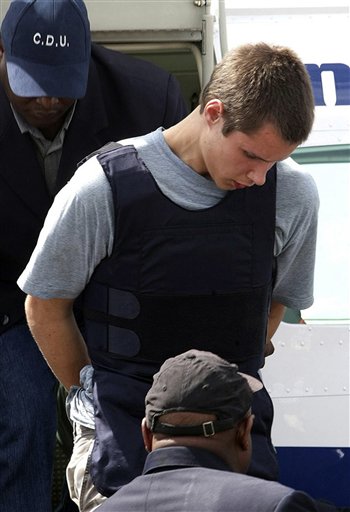 Island police had been searching for the wily fugitive since he allegedly crash-landed a stolen plane a week ago on nearby Great Abaco Island, where he was blamed for a string of at least seven break-ins.
Authorities caught Harris-Moore on Harbour Island, a small tourist destination just off mainland Eleuthera, police Commissioner Ellison Greenslade told a news conference.
Harris-Moore was carrying a handgun that he tried to throw away and shots were fired during a water chase, Greenslade said. He did not say who fired them.
"It was like something you might see in the movies," Greenslade said.
Earlier Sunday, a police official who spoke on condition of anonymity because he wasn't allowed to discuss the case said Harris-Moore initially attempted to flee but police shot out the engine on his boat.
He added that the suspect was examined by a doctor and appeared to be in good health. He will be taken to court this week and arraigned on charges including theft and burglary in the Bahamas, the commissioner said, noting that these charges will take priority over those pending against him in the United States.
A spokesman for the U.S. Embassy in Nassau, Jeff Dubel, praised the "outstanding efforts" of the Bahamian authorities who captured the teen.
Read the rest of the AP story by clicking the link below.