SHEBOYGAN, Wis. (AP) — Judith Post says she remains haunted by a memory more than half a century old — the sight of her older sister tossing her own baby several feet and watching the infant land on the floor. Though Post tries to forget the scene, a fresh court case has forced her to confront those thoughts again.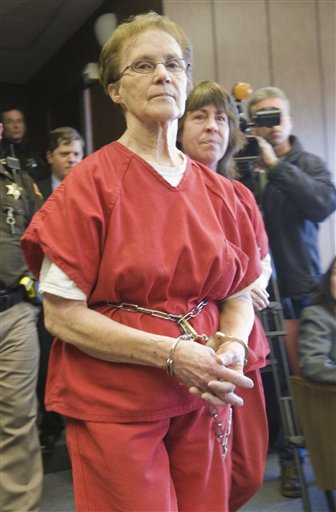 Post's sister, Ruby Klokow, 74, (pictured) of Sheboygan pleaded not guilty Wednesday to second-degree murder in the 1957 death of her daughter, after her son came forward to police in 2008 with stories of horrific childhood abuse.
Klokow, wearing a red prison jumpsuit, did not speak at the preliminary hearing, during which a judge determined there was enough evidence for her to stand trial.

Post, 69, isn't sure how to react to the allegations. She told The Associated Press that Klokow regularly abused her when they were children, and she said she once watched Klokow toss her baby daughter Jeaneen to the ground. It's not immediately clear how that alleged incident might relate to Jeaneen's death.

"How do I feel about how she should be punished? I don't know," Post said, pausing for a moment and taking a deep breath. "That's up to God."

The case is proceeding now because of James Klokow Jr.
The 55-year-old went to police with stories of his mother regularly beating him, choking him and kicking him in the legs with steel-toed boots so often that he still has knee problems. He spoke of his mother breaking his arm and nose.
He said she once forced him to stay in the basement for so long that he quenched his thirst by lapping water from the floor. He also described his mother covering the head of his mentally challenged younger brother and striking the wailing boy's toes one by one with a hammer.

But despite the physical torture, James Klokow told investigators, one of the worst pains he endured was his mother blaming him for his 7-month-old sister's death.
Click the link below to read the rset of the story by Associated Press writer Dinesh Ramde.