Police and FBI surround the apartment building in Santa Monica, Calif., where fugitive crime boss James "Whitey" Bulger and his longtime companion Catherine Greig were arrested Wednesday.
By CHRISTINA HOAG and THOMAS WATKINS, Associated Press
SANTA MONICA, Calif. (AP) — As the FBI chased leads on two continents, Boston mob boss James "Whitey" Bulger spent nearly all of his 16 years on the lam in this quiet seaside city, passing himself off as just another elderly retiree, albeit one who kept a .357 Magnum and more than 100 rounds of ammunition in his modest apartment.
Bulger — the FBI's most-wanted man and a feared underworld figure linked to 19 murders — was captured Wednesday after one of the biggest manhunts in U.S. history. His undoing may have been his impeccably groomed girlfriend.
Earlier this week, after years of frustration, the FBI put out a series of daytime TV announcements with photos of Bulger's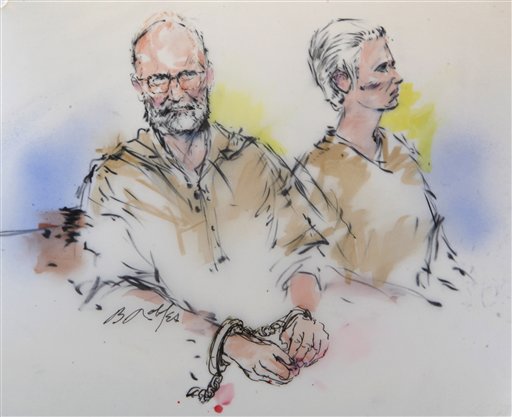 blond live-in companion, Catherine Greig. The announcements pointed out that Greig was known to frequent beauty salons and have her teeth cleaned once a month.
Two days later, the campaign produced a tip that led agents to the two-bedroom apartment three blocks from the Pacific Ocean where Bulger and Greig lived, authorities said. The FBI would not give any details about the tip.
Bulger and Greig are pictured at their arraignment Thursday in a sketch by Bill Robles.
Bulger, the 81-year-old boss of South Boston's vicious Winter Hill Gang — a man who authorities say would not hesitate to shoot someone between the eyes — was lured outside the building and captured without resistance. Greig, 60, was also arrested.
Neighbors were stunned to learn they had been living in the same building as the man who was the model for Jack Nicholson's ruthless crime boss in the 2006 Martin Scorsese movie "The Departed."
Read the rest of the AP story by clicking the link below.